Posted on
By Ellen Arnold

Lake Tahoe and the surrounding area offer endless activities and opportunities to unwind and take in the beauty of the Sierras. From rustic cabins in the towering pines to luxurious suites with all the amenities, Tahoe has a variety of lodging options that can accommodate any needs or tastes.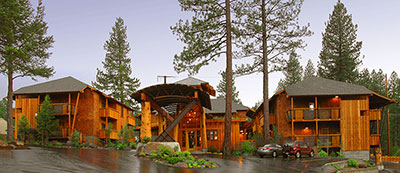 Cedar House Sport Hotel | Truckee, CA
Adventure is seeped into every wall of this sustainably built, European-style hotel. The family owned Cedar House Sport Hotel is a Truckee gem with exceptional attention to detail. The Cedar House aims to connect its guests with nature and does its job well. The rooms range in size from comfy single queen rooms to sumptuous luxury suites. All of the beautifully designed rooms feature imported German down comforters, quality bathroom amenities, plush towels and bathrobes, refrigerators, Keurig coffee makers, private decks, eating bars, cable TV on LCD flat screens, radios and free wi-fi. Guests can fuel their day at the complimentary breakfast buffet and wind down when the adventure ends in the outdoor hot tub. The Cedar House has an in-house adventure company that is partnered with the Tahoe National Forest called T3 Adventures that offers guided excursions in the Lake Tahoe area. Their activities cater to all levels and there's something for everyone. Try snowshoeing, kayaking, hiking, paddle boarding, mountain biking, rafting , or even horseback riding. Dogs are also welcome, but must be approved by phone when making the reservation. The Cedar House even has a special 'Dog Itinerary' to help you plan activities with your furry travel companion. More Info
---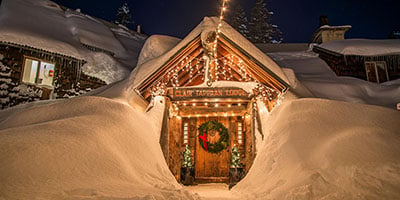 Clair Tappaan Lodge | Norden, CA
The historic Clair Tappaan Lodge is a beautiful, rustic mountain lodge built by Sierra Club volunteers in the early 1930's. It's location on the Donner Summit makes it a perfect place to explore the Sierra Nevada range any time of year. This charming lodge offers three hostel-style options for lodging. The single-gender Dorm Rooms have a bunk bed and locker. The Private 2-Person Rooms have two twin beds, and the Private Group Rooms sleep 5-12 people. The shared men's and women's bathrooms have showers, sinks, and toilets (Be sure to bring your own sleeping bags and towels). There is a beautiful living room to relax in with a fireplace and comfy couches. Other amenities include a library, indoor hot tub, game room, laundry room, lockers, free wi-fi, fire ring, a rental shop, and a demo center. The kitchen serves breakfast and lunch family style while lunches are prepared yourself at the sandwich station. Complimentary coffee and tea are also available in the dining room. The lounge has refrigerators, microwaves and toasters for guests to use.
Clair Tappaan has 14 km of snowshoeing and cross-country ski trails and is conveniently located near Sugar Bowl, Soda Springs, and Donner Ski Ranch. If snow sports aren't your thing, there are miles of hiking trails, rock climbing, mountain biking, fishing, alpine lakes and streams, with The Pacific Crest Trail nearby. For the extra-adventurous, The Clair Tappaan operates three backcountry huts that offer wood-fired stoves, firewood and sleeping lofts. Each can be hiked to in less than a day and all supplies needed for your stay must be brought with you. More Info
---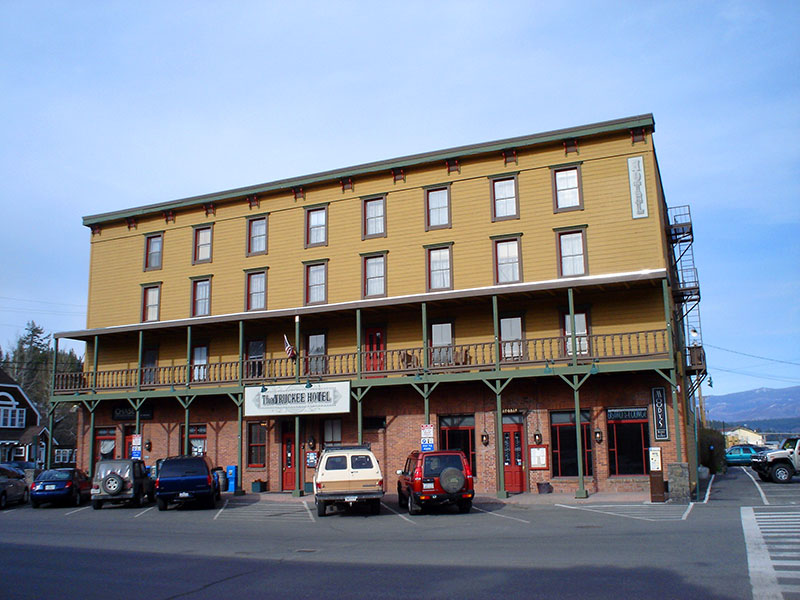 The Truckee Hotel | Truckee, CA
The Truckee Hotel, rich with Truckee history, was built in 1873 as the American House and was a common stop on the Dutch Flat Wagon Road. It was later called the Whitney House and in 1976 was renamed the Truckee Hotel. The staff is amazing and welcoming and the whole property is well-kept and clean. The hotel features 28 European rooms with traditional shared bathrooms in each hall and 8 American rooms with private bathrooms and claw foot tubs. A complimentary spread of coffee, tea, pastries, cereals, and juice are served in the lobby each morning and free wi-fi is available. The Truckee Hotel is located in historic Old Town Truckee, making it a great home base for your ski trip or weekend getaway. More Info
---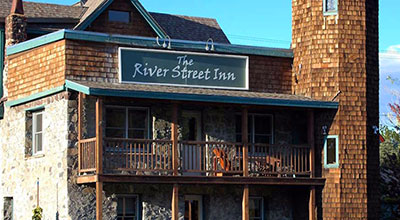 The River Street Inn | Truckee, CA
The River Street Inn, built in 1882, is located in historic Old Town Truckee on the Truckee River. This B&B has newly decorated rooms with private bathrooms and flat screen TVs with great views of the river and the surrounding alpines. Complimentary coffee, pastries, and fruit are served every morning. Spend time strolling through the cute boutiques and have a bite in one of the many restaurants in this quaint part of Truckee. Lake Tahoe and Donner Lake are minutes away and offer countless activities year round. End your day of adventure with a cocktail, BBQ-style meal, or even just some fresh beignets from the 1882 Bar and Grill that is located in the inn. More Info
---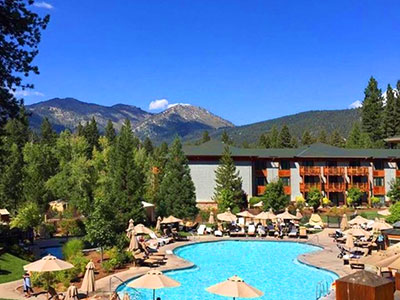 Hyatt Regency | Incline Village, NV
Looking for something a little more luxurious for your stay at Lake Tahoe? Just steps from the beach The Hyatt Regency in Incline Village is the answer. From the Stillwater Spa & Salon and lagoon-style heated pool and jacuzzis to taking a ride on the lake in one of their private boats, the Hyatt provides some amazing amenities to make your stay in Lake Tahoe exciting and luxurious. The restaurants, casino, bars, pool/spa area, guest rooms and lobby are beautifully designed and the service is excellent. The fitness center, Kid's Camp, pool, outstanding dining options, private beach, plush Hyatt Grand Beds, free shuttles to ski resorts and Incline Village, sport/rental shop and proximity to endless year-round outdoor activities make the Hyatt perfect for a family vacation or a romantic getaway for two. Even your four-legged family members are welcome here. More Info
---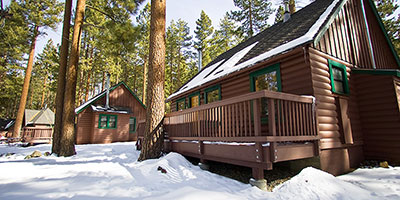 Zephyr Cove Cabins | Zephyr Cove, CA
Anytime of year is a good time of year to stay in a cabin. Beautiful Zephyr Cove has a great lodge and campground, but I highly recommend one of the 28 lakeside cabins. This historic resort, nestled on the southeast side of the lake, was built in the early 1900's and still has the original architecture, but features many modern amenities such as cable TV, fully equipped kitchens, private bathrooms, and gas fireplaces. Each clean, pet-friendly cabin has a deck, parking spots, and fresh towel service daily, and range in size from small studio cabins for two to larger cabins that sleep up to 10. The area is a hot spot in the summer with activities galore and serene and peaceful in the fall and winter. Zephyr Cove is the home of the MS Dixie that has daily cruises to Emerald Bay year round and the restaurant is a great spot to have breakfast. More Info
---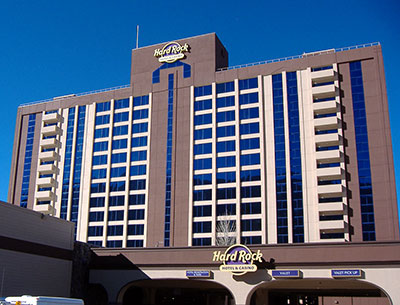 Hard Rock Hotel | South Lake Tahoe, CA
If you want a Lake Tahoe experience that's in the middle of all the action, has a fun nightlife, close proximity to the lake and outdoor activities, shopping, gaming, concerts and shows then Stateline is where you want to be… and the iconic Hard Rock is where you want to stay. The rock memorabilia-soaked atmosphere and wide array of amenities and activities make this hotel-casino an exciting place to stay. The Hard Rock features a year round pool, concierge service, room service, fitness center and onsite restaurants and bars for all tastes. The staff, from the front desk to the barista at Fuel, are friendly and attentive. The showroom, Vinyl, books great headliners and comedians, and has a little after-hours fun on the weekends. The bedding and towels are high quality, and the rooms are comfortable and nicely decorated. Every room has a beautiful view of the Sierras, but consider requesting a room facing the lake for the best views. More Info
---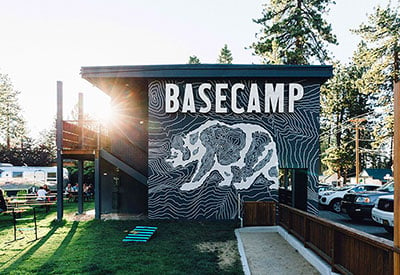 Base Camp | South Lake & Tahoe City, CA
Basecamp South Lake Tahoe, and the new Basecamp Tahoe City, cater to both relaxation and to all the outdoor adventure waiting for you in the Lake Tahoe Basin. Both Basecamp locations provide a fun setting to hang out and unwind after a day of hiking, snowboarding or paddle boarding complete with fire pits and s'mores. The stylish, comfortable rooms vary in size and are decorated in a modern theme with rustic vibes. There are rooms for families or larger groups with bunk beds and even camping-themed rooms with tents and glowing "fire pits". The South Lake location has 73 rooms, and the smaller Tahoe City location has 24. Great meals are easy to come by while staying at Basecamp. They offer continental breakfast, have great on-site restaurants, and are within walking distance to many of South Lake and Tahoe City's best restaurants. More Info
---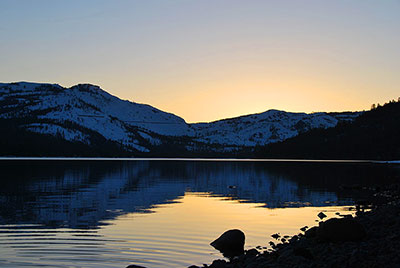 Donner Lake Vacation Rentals | Donner Lake, CA
One of the best ways to experience the Sierras is to stay in one of the many cabins around Donner Lake. It's close to Truckee, Lake Tahoe, ski resorts and all of the outdoor activities to be had around Tahoe. I prefer the west end of the lake as many cabins are on Lakeview Creek and the neighborhood is quaint, close to the beach and family friendly. Local rental agency, Donner Lake Realty, has been managing cabins around Donner Lake since 1973. They are knowledgeable about the area and offer more personalized service over larger home/cabin-sharing companies. Everything from traditional mountain cabins to larger, more upscale rentals are available year round. More Info
---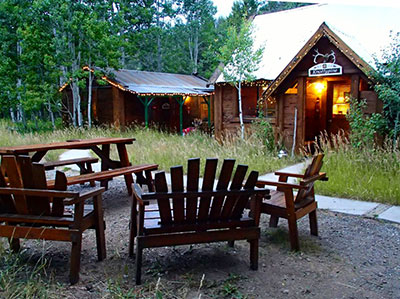 Sorenson's Resort | Hope Valley, CA
Just twenty minutes from Lake Tahoe, Sorensen's Resort is a year-round gem located in Hope Valley. Cozy cottages and log cabins, that provide a wide range of accommodations, dot the 165 acres of pines and aspens. The grounds nestled into this alpine setting are well maintained and picturesque… the perfect place to relax in a hammock or the wood-fired sauna after a day of hiking or hitting the slopes. In warmer months you can hike or fish in the west fork of the Carson River that meanders through the area. In the winter you can enjoy snowshoeing and cross country skiing, as well as skiing at Kirkwood Ski Area and soaking your muscles at Grover Hot Springs State Park. Sorensen's offers a variety of workshops throughout the year for painting, music, history, photography, and many more interesting topics. The Country Cafe has delicious food and very good service, however, I recommend bringing food to cook some of your meals if you will be staying in one of the cabins with a kitchen, or use the complimentary grills. And be sure to stop by Hope Valley Café and Market for the best pie in the Sierras. My favorite is the Marionberry pie with ice cream, of course. More Info
---