Whether you use your iPhone or a fancy DSLR camera, the Lake Tahoe area boasts some of the most beautiful photo ops in the world. Here are some of the best vantage points that are sure to be Instagram hits. Some are easy to get to and some require a bit of hiking.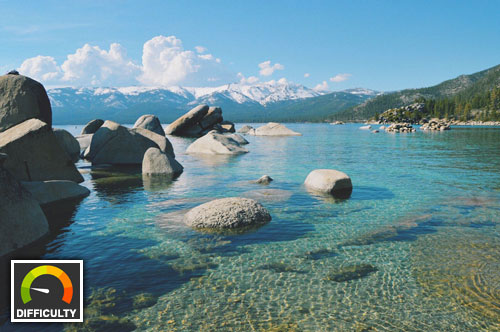 Sand Harbor, Lake Tahoe
The crystal clear blue water, silky sand, massive boulders and rocky coves make Sand Harbor a popular place to get gorgeous shots of Lake Tahoe. Beautiful photographs are achievable year round and at different times throughout the day. Photo credit @britt.ventures
Cost:
From 5/15 to 10/15 $12.00 per vehicle.
From 10/16 to 5/14– $7.00 per vehicle.
Bike in: $2.00 per bike
---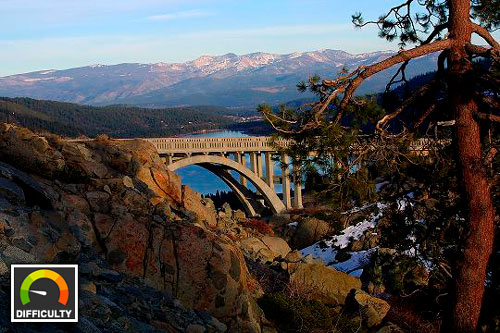 Rainbow Bridge (Donner Summit Bridge)
For the best view of Donner Lake head up Old Highway 40 to the historic Rainbow Bridge. Built in the 1920's, this beautiful structure is perched just above the lake below Donner Summit and is a great spot to capture the sunset. At the top of Donner Summit Road on the right hand side you can pull off into a parking lot to admire both the bridge and the views of Donner Lake below.
Cost: Free
---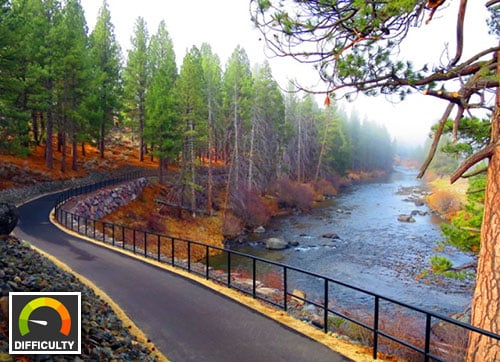 Legacy Trail in Truckee, CA
This well maintained paved hiking/biking trail has multiple areas to capture great shots of the Truckee River and the High Sierra crest. Sunrises and sunsets are beautiful there, as well as the wildlife and native plants all along the trail.
Cost: Free
---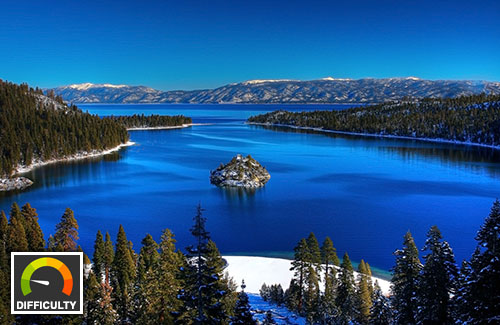 Emerald Bay, South Lake Tahoe
With Fannette Island in the background, Emerald Bay is one of the most highly recognized and photographed areas of Lake Tahoe. The family-friendly hike to Eagle Falls yields beautiful photos of the waterfall, lake and Desolation Wilderness. Sunrises and sunsets are stunning from this side of the lake, as well as shots of the Milky Way above (for the more advanced photographers).
Cost: Free
---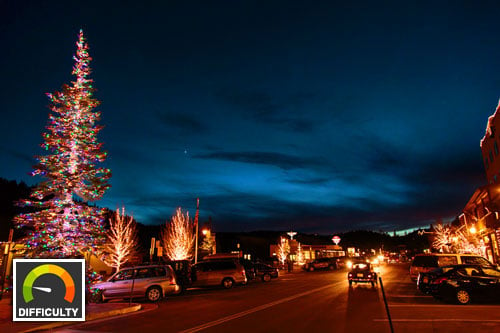 Alpenglow in Downtown Truckee
Historic downtown Truckee is the perfect setting to capture shots of the warm reds, pinks and oranges of sunrise and sunset in the mountain sky. The old architecture and alpine scenery against the alpenglow is especially gorgeous in the fall and winter or just after a rainstorm.
Cost: Free
---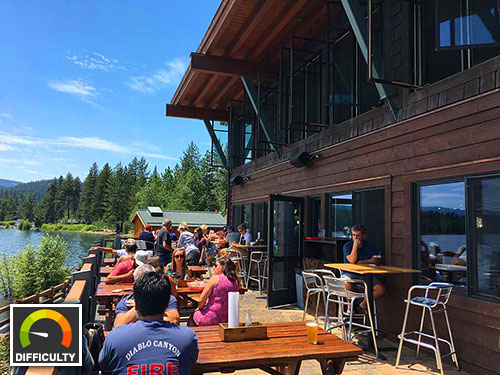 Moes BBQ Spot in Tahoe City
This hip little spot, located on the north shore of Lake Tahoe in Tahoe City, is great stop to both eat some great food while getting some great Instagram shots in the process. Take in the beautiful lake views from the patio with the marina in the foreground while eating some amazing food. Moes has really reasonable prices considering its location and is a perfect refueling point for photographers making a circuit around the lake.
Cost: $ for Food, Free Ambience
---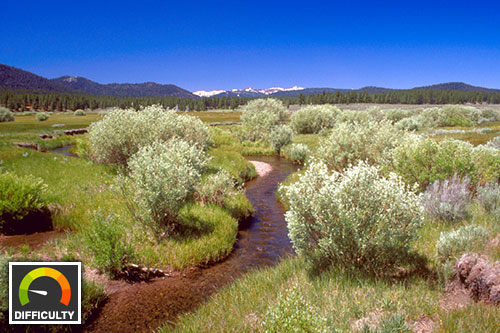 Martis Creek Wildlife Area
Not only are the views of the surrounding mountains, riparian landscapes and grassy meadows beautiful, but you may encounter some wildlife to photograph while visiting the Martis Creek Wildlife Area. Beaver, mule deer, spotted owl, several species of birds, insects, frogs and fish are just a some of the animals that call this region home. The meadow is surrounded by lush pine forest and features wildflowers in the summer and spring, a snowy wonderland in the winter and full of color in the fall. Short, easy trails give you access to some great photo ops.
Cost: Free
---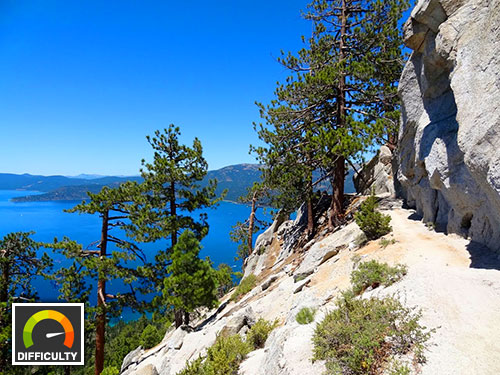 Flume Trail, Lake Tahoe
For the more adventurous photographers, this popular hiking and mountain bike trail is perched above the blue waters of Lake Tahoe's northeast shore. A short 4.5 mile section of the trail between Marlette Lake and Tunnel Creek Rd (the old Ponderosa Ranch) boasts some of the most stunning views of the lake. It takes a bit of effort, but it is well worth it to grab your hiking boots or mountain bike for that perfect panoramic shot of the lake.
Cost: Free
---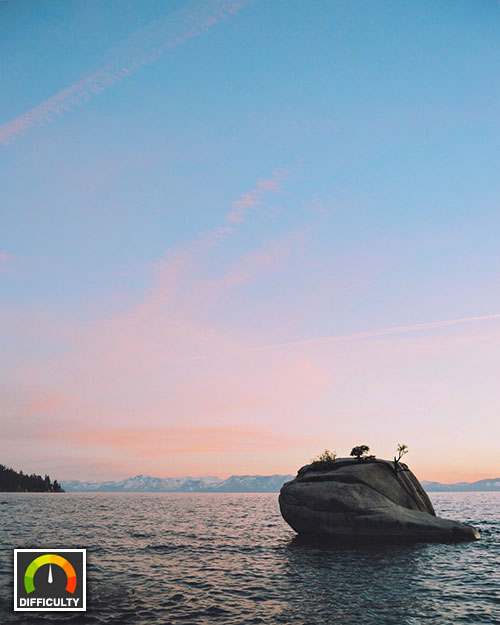 Bonsai Rock, Lake Tahoe
This giant lone boulder, with four small trees growing out of the top, sits in the clear water of a rocky cove on Lake Tahoe's northeast shore. It's an iconic attraction for photographers and is also a popular spot for shots of the sunset. It is located just off NV State Route 28 (about 2 miles south of Sand Harbor and 2 miles north of Secret Cove, just be sure to keep an eye out for the pullout areas). Take a short hike down to the cove from the road. Photo credit @britt.ventures
Cost: Free
---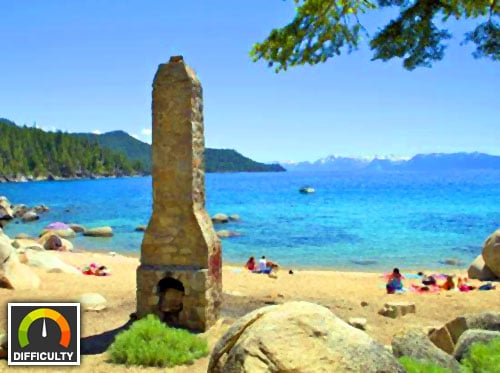 Chimney Beach, Lake Tahoe
This hidden little beach with an actual chimney on the shore (a remnant of a caretaker's cabin that once stood there) sits about 2.5 miles south of Sand Harbor. The rocky cove and blue waters are sheltered by towering pine trees and make for some great insta-worthy photos.
Cost: Free
---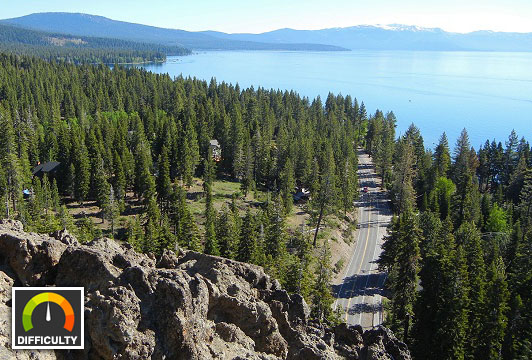 Eagle Rock, Lake Tahoe
Located on Lake Tahoe's west shore, Eagle Rock is a great spot to capture panoramic photos. The relatively easy hike takes under thirty minutes from the parking lot, yet gives a 360 degree view of the lake and a stunning view of Desolation Wilderness.
Cost: Free
---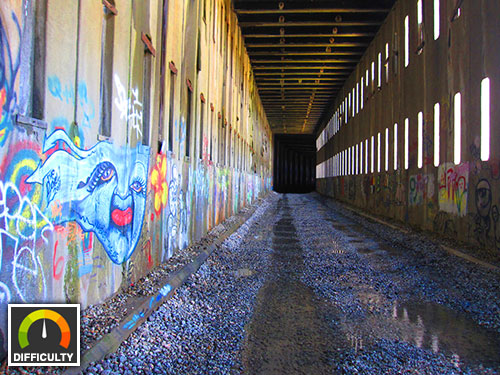 Donner Train Tunnels at Donner Pass
The mix of history, nature and street art makes the Truckee train tunnels a unique place to capture photos. These abandoned tunnels date back as far as the 1860's and were used until the early 1990's. There are several vistas along the way to get shots of Donner Lake below.
Cost: Free
---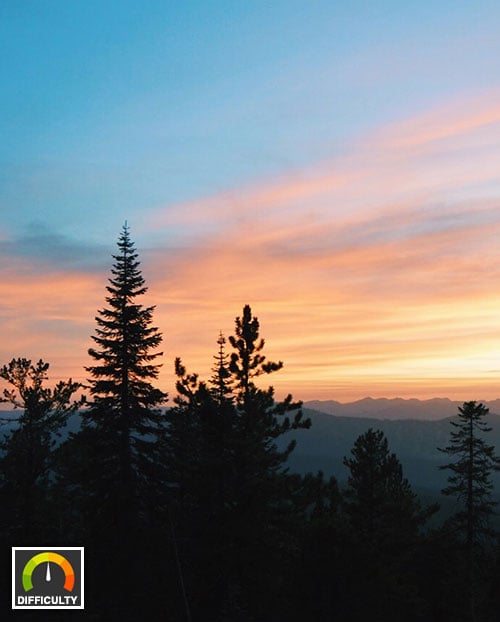 Martis Peak Fire Lookout
Just a short hike from the fire road is the 100 year old Martis Peak Fire Lookout. With it's 360 degree view, this lookout has one of the best vantage points for photographing panoramic shots of Lake Tahoe, the Sierra crest, Donner Lake and Castle Peak. Photo credit @britt.ventures
Cost: Free
---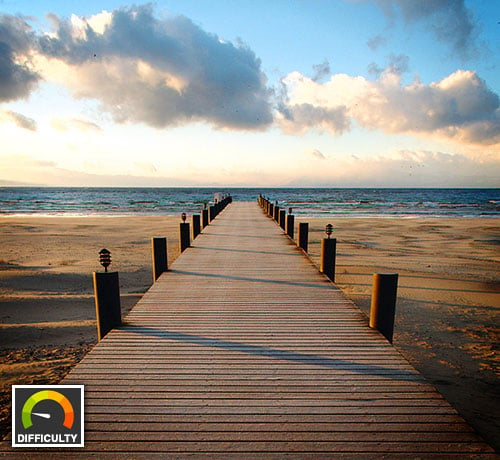 The Long Pier at Timber Cove
An iconic photography location, the poster child for Lake Tahoe! Beautiful hues of emerald, greens and blues on Lake Tahoe make for a stunning backdrop with the longest pier on the lake in the foreground. Many professional photographers have tackled this shot now it's your turn!
Cost: Free
---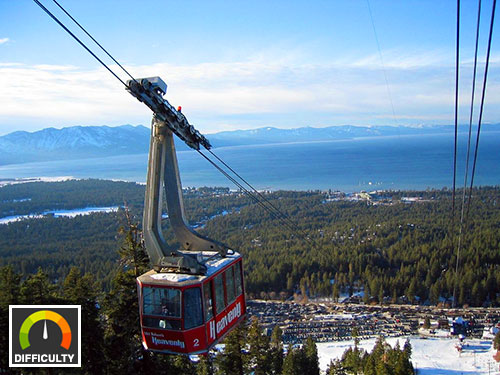 Heavenly Gondola at South Lake Tahoe
This approximately 2.5 mile gondola ride to the top of Heavenly has an observation deck and short hiking trails about half way up that gives you a chance to take the most This 2.4 mile ride up the mountain is a fun way to get some spectacular panoramic photos of the lake as well as Desolation Wilderness. The best views aren't actually from the top, but from the Observation Deck about half way up. There a a few short hiking trails at this stop that give you a chance to get some really breathtaking shots of Lake Tahoe.
Cost: Free
---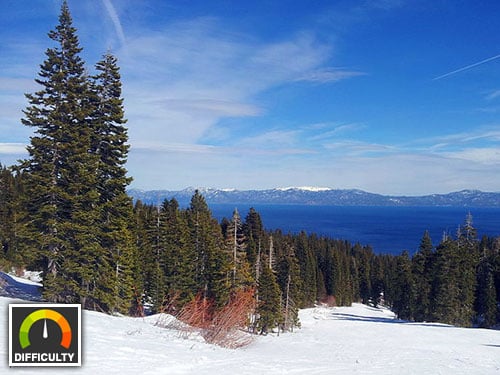 Lake Tahoe Area Ski Resorts
If you ski or snowboard there are also some breathtaking views to be had in our areas ski resorts. Some of my favorites resorts with stunning views of Lake Tahoe include Homewood on the west shore, Diamond Peak in Incline Village, Heavenly (see above) in South Lake, and Northstar-at-Tahoe in Truckee. Some of the best photos to be had are at Diamond Peak and Homewood due to their proximity to the lake. Get out on a bluebird day and you're guaranteed to have an Instagram hit!
Cost: Varies by Resort
Homewood | Diamond Peak | Northstar-at-Tahoe
---