Login
Log in if you have an account
Dont have an account? Register
Winter Snowfall 2023
02 Mar 2023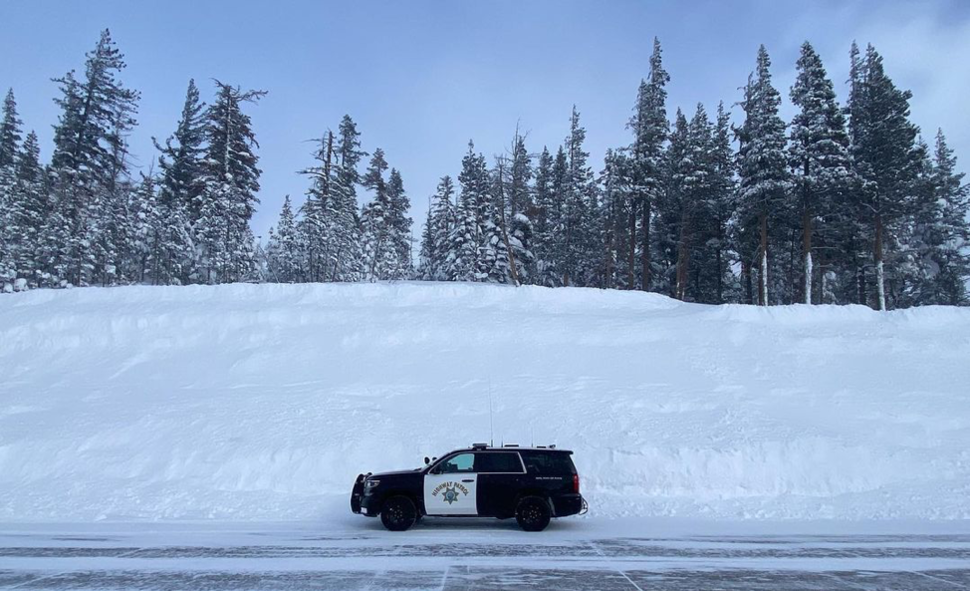 Tahoe's Snowiest Oct-Feb Period since 1970, Here's What That Means for Spring Skiing
The tail end of February delivered nearly 6-12 feet of snow to the Lake Tahoe area, and by the looks of it, the snow isn't stopping. The 2022/2023 winter season in the Sierra Nevada is one for the books, prompting multi-day highway closures, resorts extending their seasons, and shoveling parties for both locals and visitors. Before we dive in on how we can all enjoy a spring get-away, let's discuss how we got here in the first place.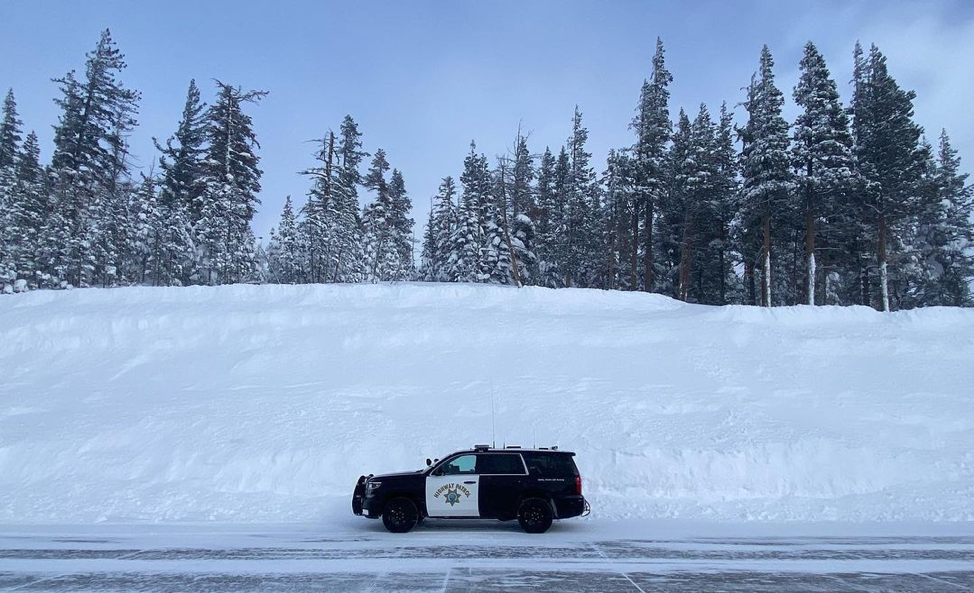 Credit: CHP Truckee
Current and Historical Data
Lake Tahoe and the rest of the Central Sierra snowpack is sitting at 205% above normal, as of March 1, 2023. With a current base depth of 531 inches calculated by the Central Sierra Snow Laboratory, locals are starting to entertain the idea of comparing this season's trend to previous big years like 2017, 2011, 1995, 1983, and 1982.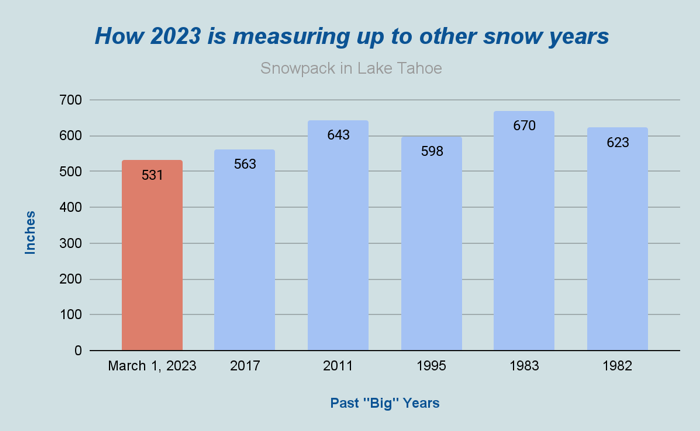 Thanks to CSSL, the graph visualizes snow accumulation by year at Donner Summit. We're no climate scientists at California 89, but after diving through historical data and future forecasts, Tahoe's snowpack will surpass the 2017 season by mid-March. Passing up the other "big" years remains to be seen, but one thing is for certain: there will be no shortage of party laps this spring and early summer.  
Big snow years typically have their own set of unique issues, with large scale flooding and avalanche events being the most common. Swinging temperatures and storm intensity largely influence catastrophic events like these. If you plan on heading into the backcountry, always check the avy forecast and carry a beacon, shovel, and probe with you at all times - especially RIGHT NOW.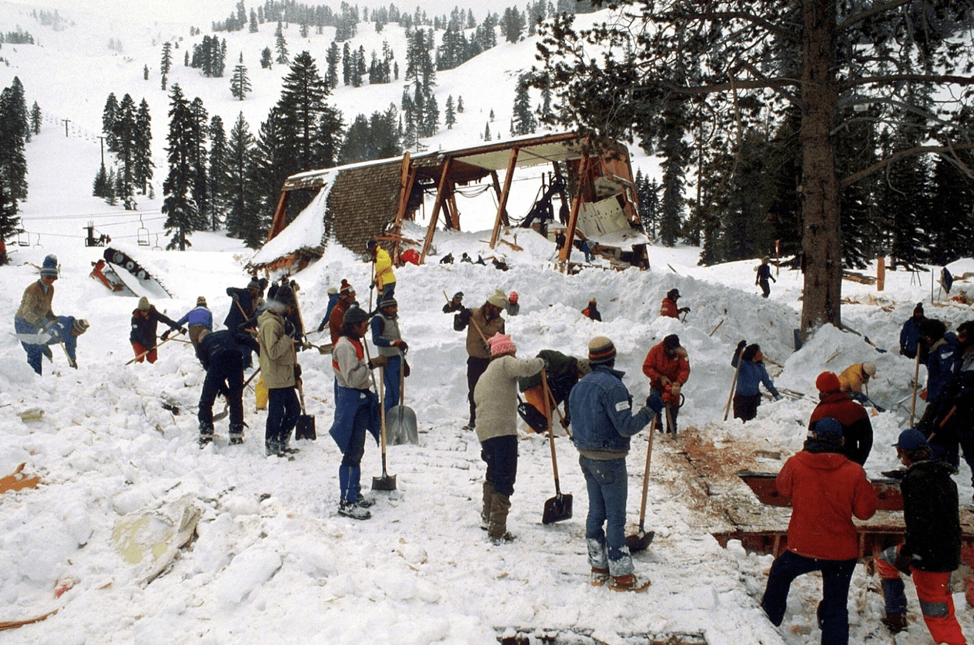 Alpine Meadows Lodge, image: sfgate.com
Remembering the 1982 Avalanche
On March 31, 1982, Alpine Meadows Resort was hit with the largest in-bounds avalanche in North America, costing 7 lives. The few bystanders working at the resort recall total destruction, taking out 3 lifts, multiple snowcats, the main lodge, and the resort's upper parking lot. It's important to highlight that the resort was closed to the public. Read the full story here, or better yet, watch the documentary Buried: The 1982 Alpine Meadows Avalanche. 
While March's upcoming chain of storms looks promising, the forecast does call for warmer and heavier snow for the second half of it. If you plan on visiting and skiing at any resort in the Tahoe area, please be patient with the crews working diligently to safely open in-bounds terrain. If you cross an area with ropes, it's likely closed for a reason. Don't be that one person (please). 
Spring and Summer Skiing
Resort Mountain Bikers may get a little upset when they hear that a few mountains in the Central Sierra have already extended their operation permits. Here's what we know about that:
Sugar Bowl

will remain open for 2 weeks longer than usual, until

April 23
Palisades

has enough snow to stay open through Memorial Day, however pending more snow and steady temps, it's likely they will extend into June with a

slight chance of 4th of July party laps

. 
Both resorts have a maximum base depth exceeding 200". Given that metric, it's likely that Kirkwood (220") and Heavenly (143") will capitalize on this opportunity to add a few weeks to their operational calendar. 
There are a multitude of administrative and natural factors that influence a ski resort's decision to extend their season. The ones that we care about, and can threaten intense snow melt are temperature and, something that we almost experienced in February, dry spells in crucial late-winter and early-spring months. Tahoe City is experiencing their coldest winter since 1953, and even though the snowpack is solid enough for resorts to extend their dates through Memorial Day, a warm spring and an intense dry spell in April will instigate snowmelt to threaten a June Apres' on the hill. Since we are experiencing a La Niña winter, historical trends indicate that the bulk of the storms occur at the beginning and end of the season. We could be in for a very wild ride on the tail end of 2023.