Login
Log in if you have an account
Dont have an account? Register
5 Great Spots to SUP & Kayak on Tahoe
21 Jul 2022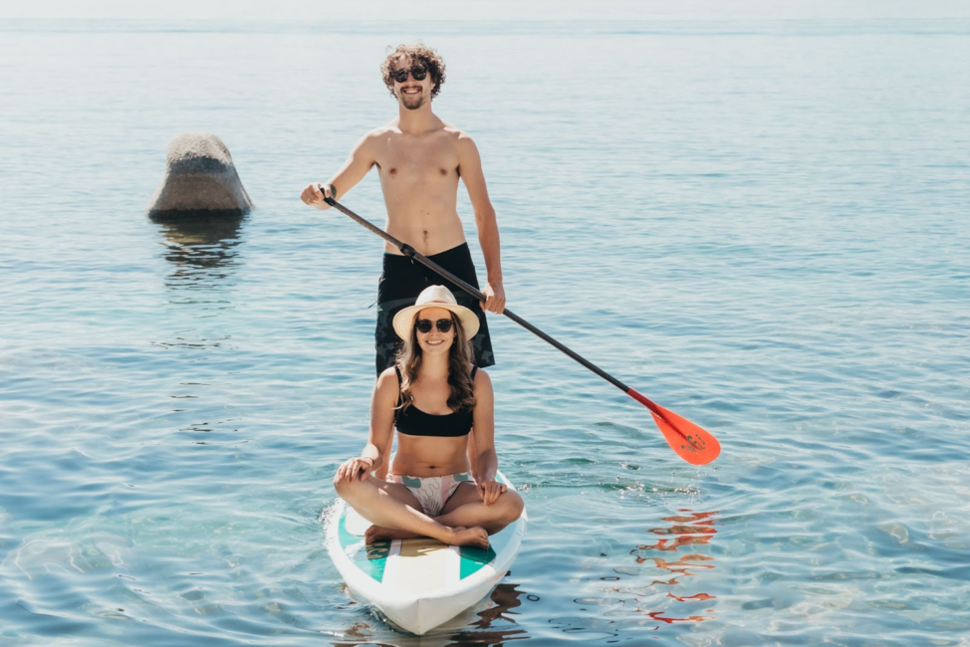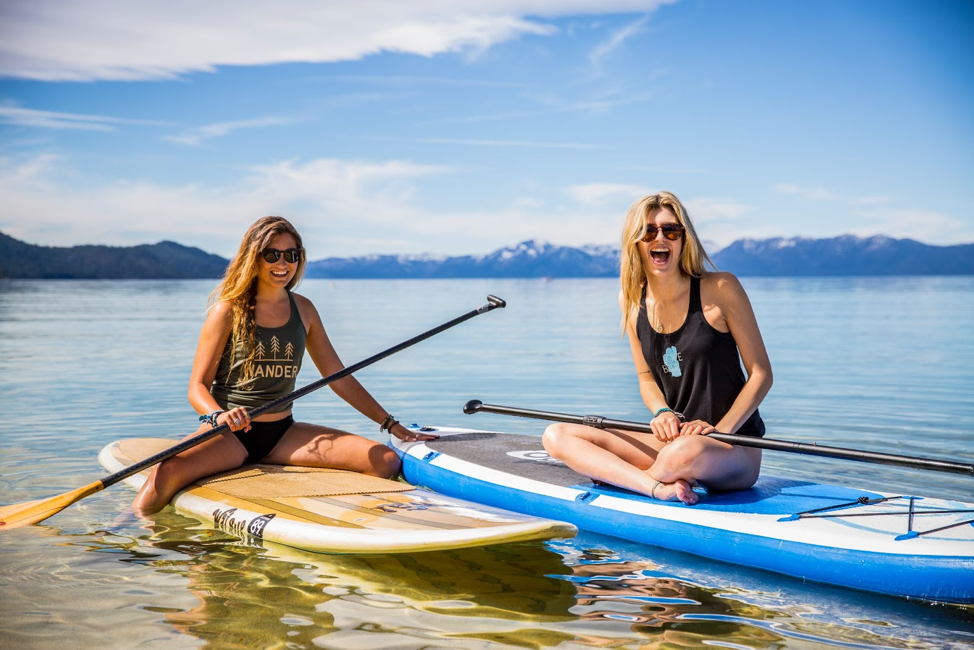 Taking in the beauty of Lake Tahoe from the beach or trails is great, but there's nothing quite like getting out on its crystal clear waters. Stand-up paddleboarding is a great way to explore the waters of Tahoe. But with 72 miles of shoreline, it can be challenging to know where to launch from. In this post we've outlined five fantastic locations to get you out on your next water adventure.
Tips & Safety
Before we get into our favorite launch locations, let's discuss some general tips for SUPing on Tahoe. First, the water temperature of Tahoe is quite cold, with average temperatures in the mid-60s during the summer months. It's essential to always wear a lifevest and ankle leash in case you fall in the water. It's also a good idea to SUP early in the day because winds tend to pick up in the afternoon. With this safety information in mind, check out our favorite SUP locations on Tahoe below!

Sand Harbor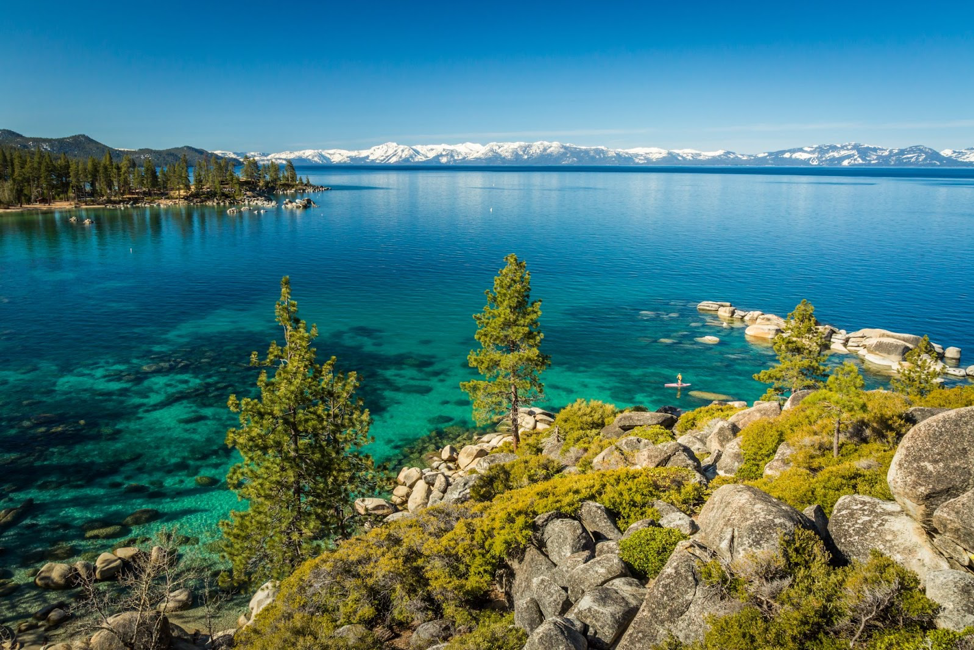 The most popular beach on Tahoe is sought-after for a reason. Its large boulders and turquoise-colored waters will make you wonder if you've stumbled onto a tropical island. It's also an excellent starting point to explore the picturesque East Shore of Lake Tahoe.
Besides being stunning, the park offers many amenities, including a visitor center, a short nature trail, and kayak and SUP rentals. 
Hours: 7:00 AM - 7:00 PM
Rentals: Clearly Tahoe Rentals
Entrance Fee: $10 for NV vehicles, $15 for non-NV vehicles

Zephyr Cove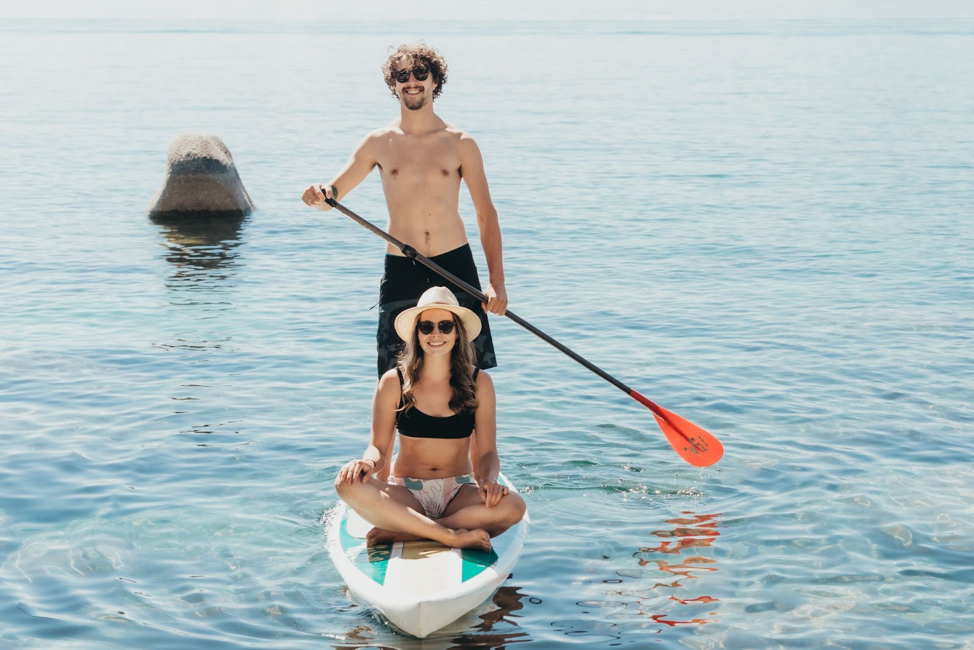 Zephyr Cove is located on Lake Tahoe's southeast shore and offers a full-service resort with a restaurant and a general store. Summer recreation activities include boating, parasailing, kayaking, SUPing, and beach volleyball courts. 
From the beaches in the park, you have plenty of calm waters to explore all the way to Zephyr Point. The views and clear water are breathtaking, and depending on the time of year and water level, there are also several rock formations you can explore. 
Zephyr Cove is a favorite because of its beauty, ample amenities, and easy access to the water. Arrive on time to secure your parking spot and find a place to relax and enjoy the Lake for the entire day!
Hours: Sunrise - Sunset
Rentals: Yes
Entrance Fee: $12

Sugar Pine Point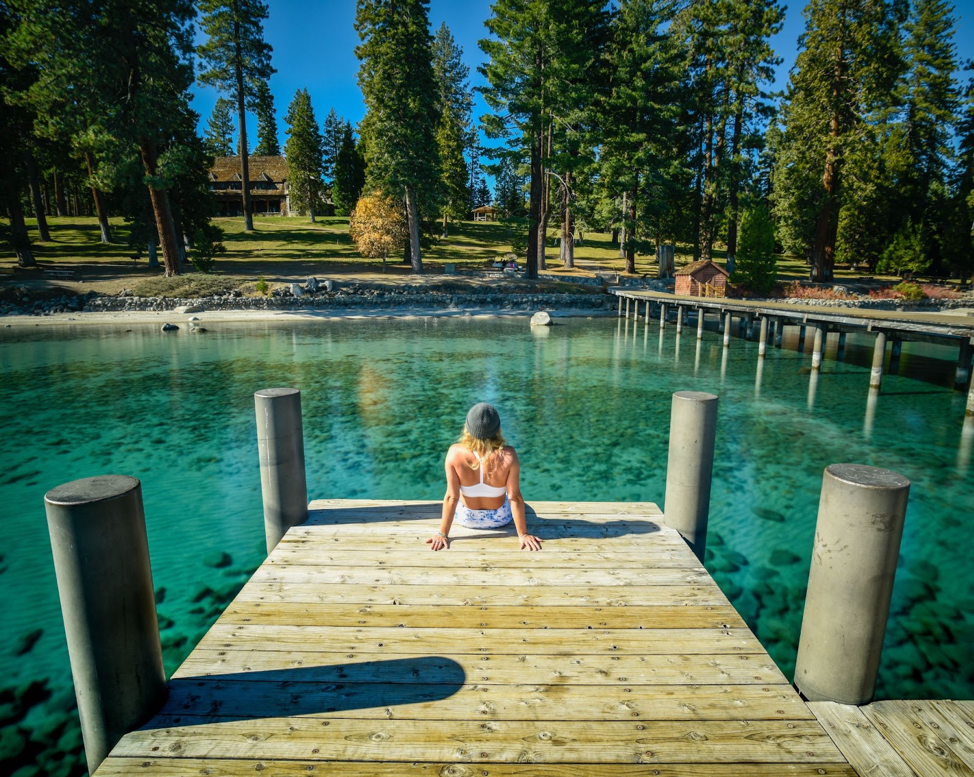 Sugar Pine Point State Park is a great spot to paddle on the west shore with nearly two miles of lakefront. The park is filled with dense forests of pine, fir, aspen, and juniper and tends to be less busy than some of the more popular beaches around Tahoe. 
When you arrive at the park, there is a short trail from the parking lot down to the beach where you can launch your SUP or kayak. Once you're in the water, we recommend heading to the right towards Meeks Bay, where you can find flat water and more amazing views. 
In addition to its beaches, the park also offers several other amenities, including hiking trails, Hellman-Ehrman Mansion tours, picnic areas, nearby campgrounds, and much more. 
Hours: Sunrise - Sunset
Rentals: Yes
Entrance Fee: $10
Cave Rock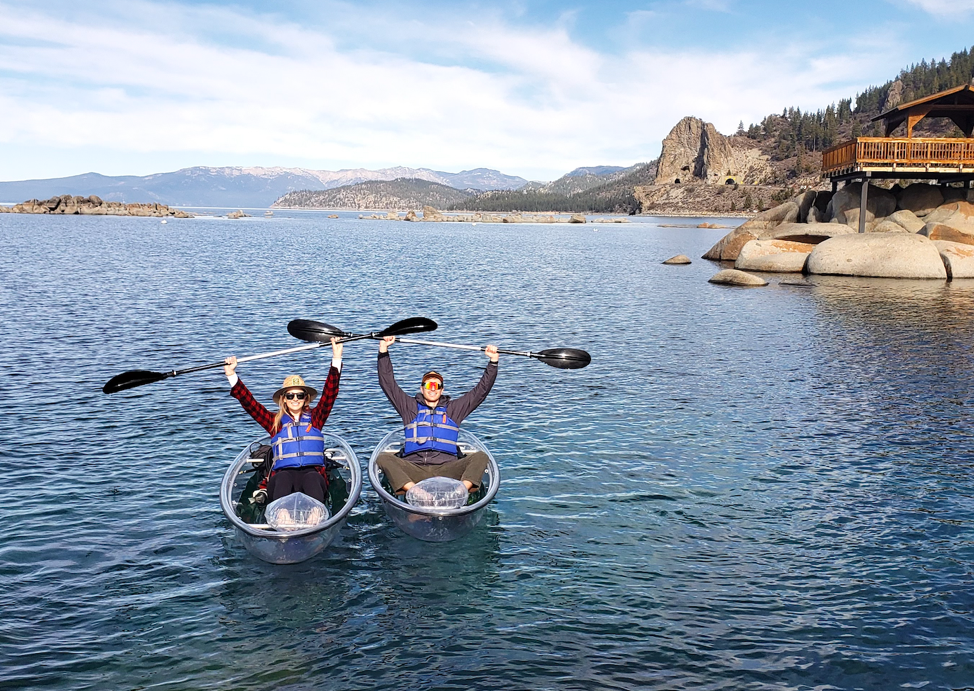 Located along the southeastern shore, Cave Rock is a great place to explore the clear waters of Lake Tahoe. Launching here offers a unique paddling experience along the impressive Cave Rock that gives the park its name. The rocky cliff is the remnant of an old volcanic core and is a significant scenic viewpoint.
Parking here is limited and tends to fill up during peak season, so arrive early if your heart is set on paddling at this location. Once you arrive, head to the beach on the opposite side of the boat launch. From here, you can easily drag your watercraft into the shallow waters and start your adventure. 
If you have extra time after you finish paddling, we recommend doing the short hike up to Cave Rock. The trailhead is across the street from the park, and the hike is 0.8 miles round trip. The view overlooking Tahoe from here is stunning and is a great place to watch the sunset!
Hours: Sunrise - Sunset
Rentals: No
Entrance Fee: $10 for NV vehicles, $15 for non-NV vehicles
Commons Beach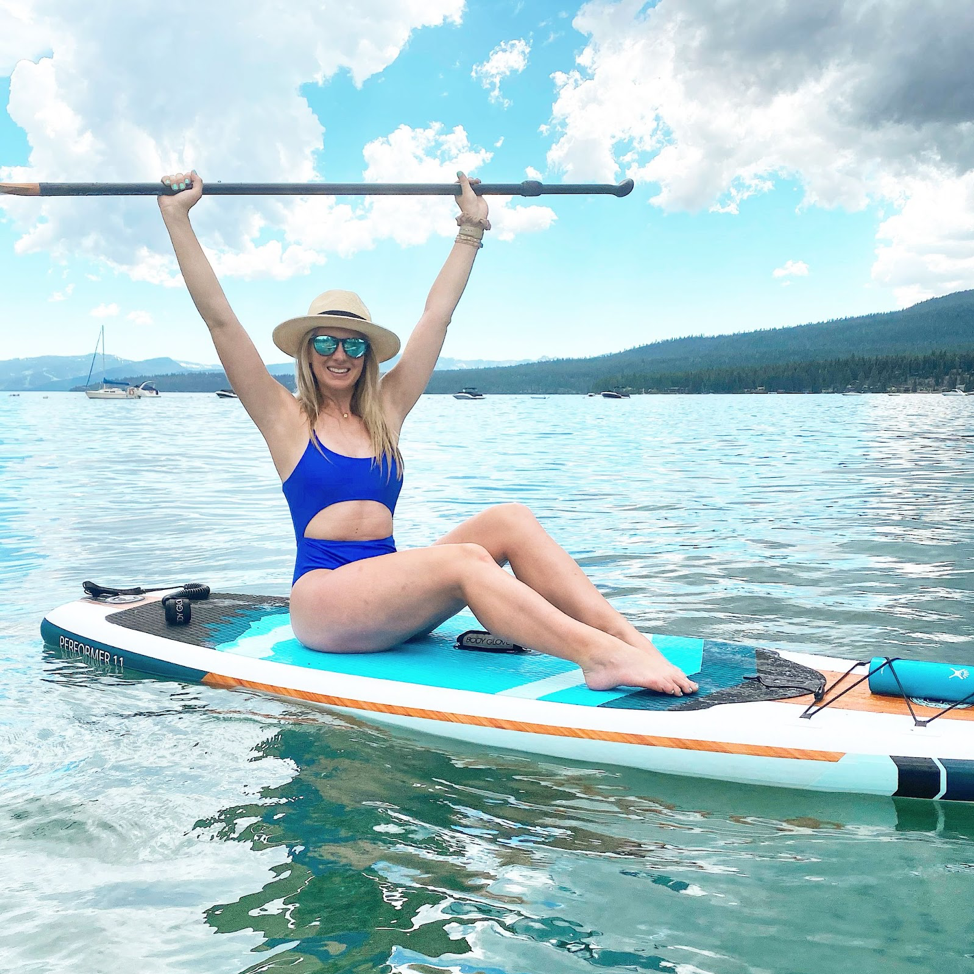 Common's Beach is located in the heart of Tahoe City and is within walking distance of several restaurants and shops. Common's Beach is a great place to SUP Lake Tahoe with the whole family and has a large grass area, picnic tables, a playground, and restrooms. 
Kayak and SUP rentals are available right on the shoreline from Tahoe City Kayak. We recommend staying for the free summer concert series if you choose to paddle here on a Sunday afternoon. Music begins at 4:00 PM and goes until 7:00 PM.
Hours: Sunrise - Sunset
Rentals: Tahoe City Kayak
Entrance Fee: Free
Have you paddled on Lake Tahoe? Let us know your favorite spots in the comments!