Login
Log in if you have an account
Dont have an account? Register
Best Places to Backcountry Ski off CA 89
25 Mar 2022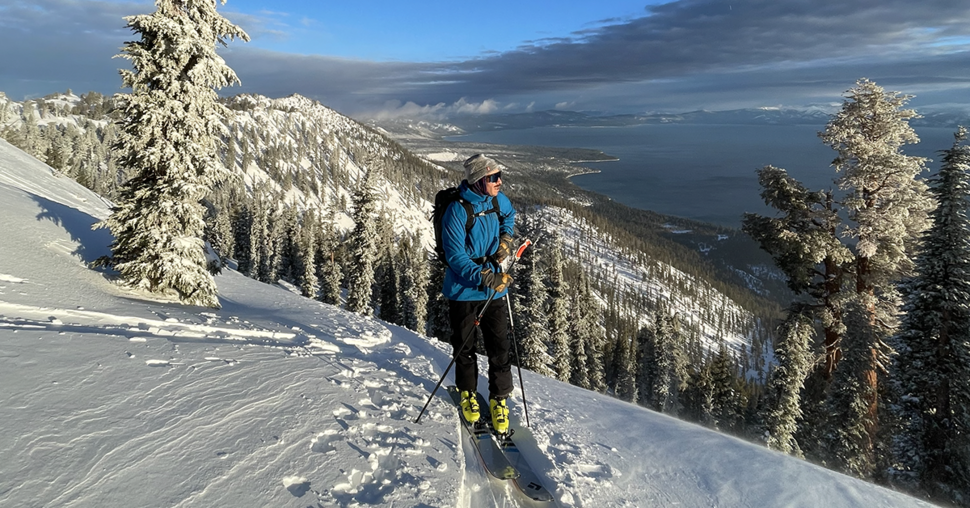 With crystal clear water surrounded by peaks reaching nearly 11,000 feet, Lake Tahoe is home to endless outdoor recreation options. While many head to the area's ski resorts for winter recreation, the skiing outside of resort boundaries is becoming equally sought after. With the proper training, experience and equipment, skiers and riders can find powder skiing in endless forests of old growth trees or corn skiing on treeless south faces throughout the Tahoe backcountry.
Skiing and riding in the backcountry comes with a number of risks. Hiring a mountain guide is a great way to learn about and manage the many hazards associated with backcountry skiing and riding. There are many guide services around the Tahoe basin, including Alpenglow Expeditions, an American Mountain Guide Association accredited business. Alpenglow Expeditions offers education and private guiding to many of these areas and more.
Rubicon Peak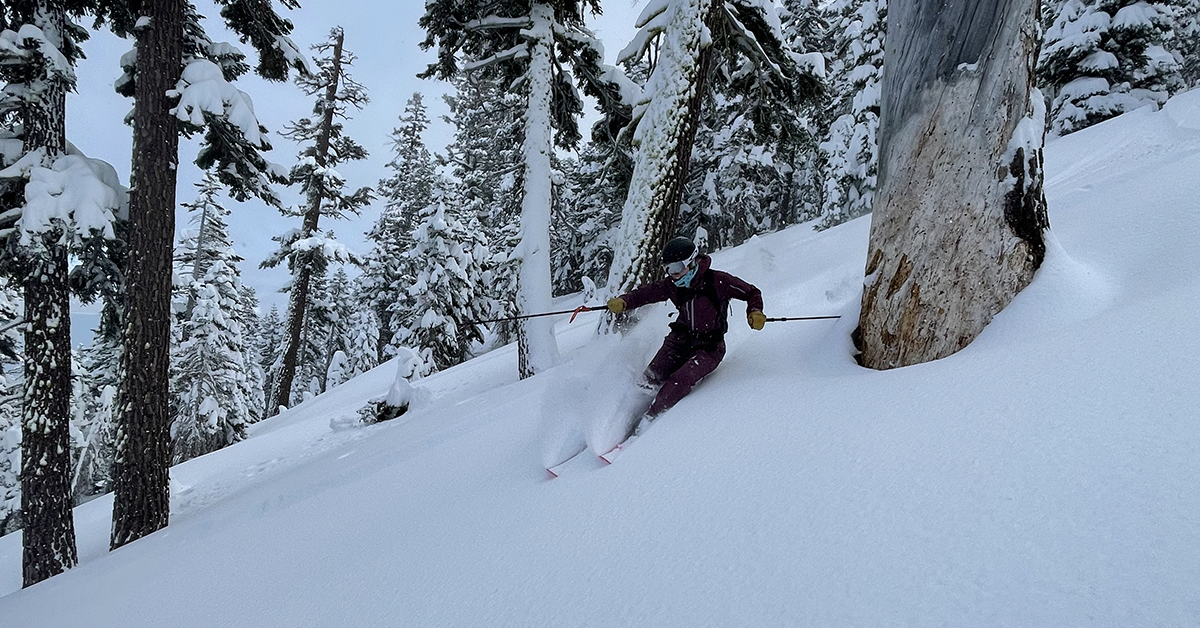 A line of peaks boarder the Southwest corner of Lake Tahoe, offering 2000 plus feet of ascent/descent right from the car. Rubicon sits farthest north on this row of peaks and is a locals favorite for early morning dawn patrol. Its North and East facing descents lead you right back to the road, and you'll be peering up at the turquoise waters of Rubicon bay as you wind through some of Tahoe's largest and most well spaced trees. 
Nat Geo Bowl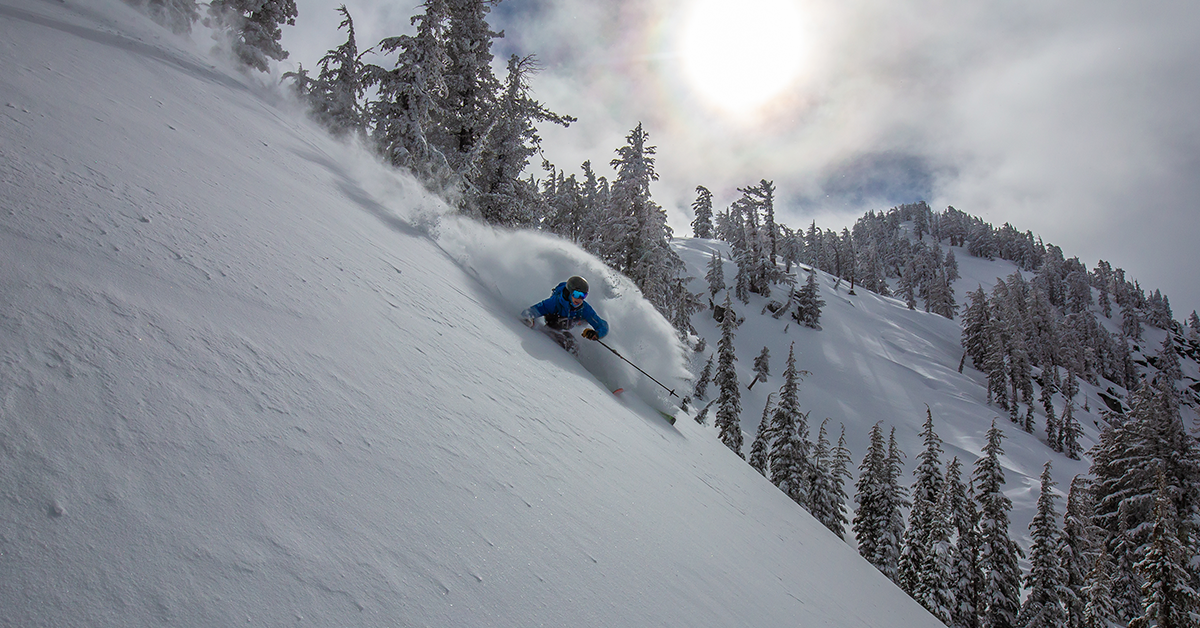 Just beyond the boundary of Palisades Tahoe Olympic Valley (formerly Squaw Valley) sits National Geographic Bowl. This big mountain terrain is home to a variety of options, from steep couloirs to mellow old growth trees, and can hold powder stashes for weeks after it snows. While previously hard to access due to the closed boundaries at Palisades Tahoe Olympic Valley, skiers can now access this zone with a mountain guide through Alpenglow Expeditions. In partnership with the resort, Alpenglow Expeditions has exclusive permission to utilize lifts and leave the boundary. 
Carson Pass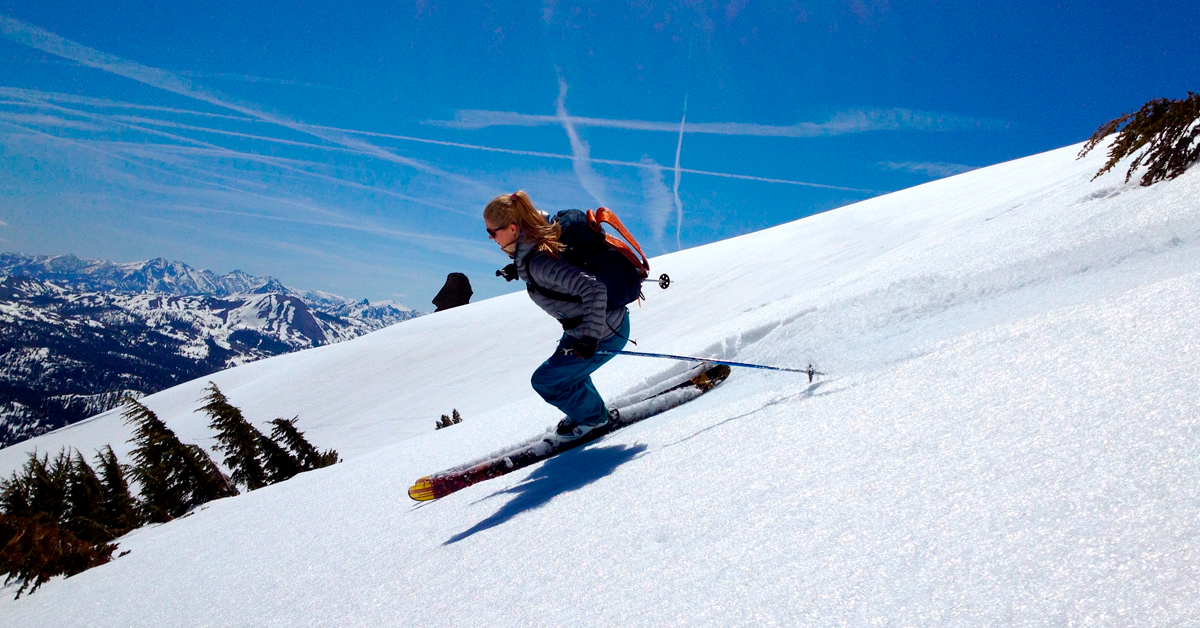 Photo: Snowbrains / Miles Clark
South Lake Tahoe is home to the basins tallest peaks which rise well above 10,000'. While some of these peaks are quite hard to access, others are just a short skin from the road. The Carson pass zone receives some of the biggest recorded snowfall in the country each year and both Red Lake Peak and Steven's Peak offer descent options on almost every aspect. A great option for early season corn skiing, you may even get a PowderCorn day, with powder on the norths and corn on the souths. 
Tamarack Peak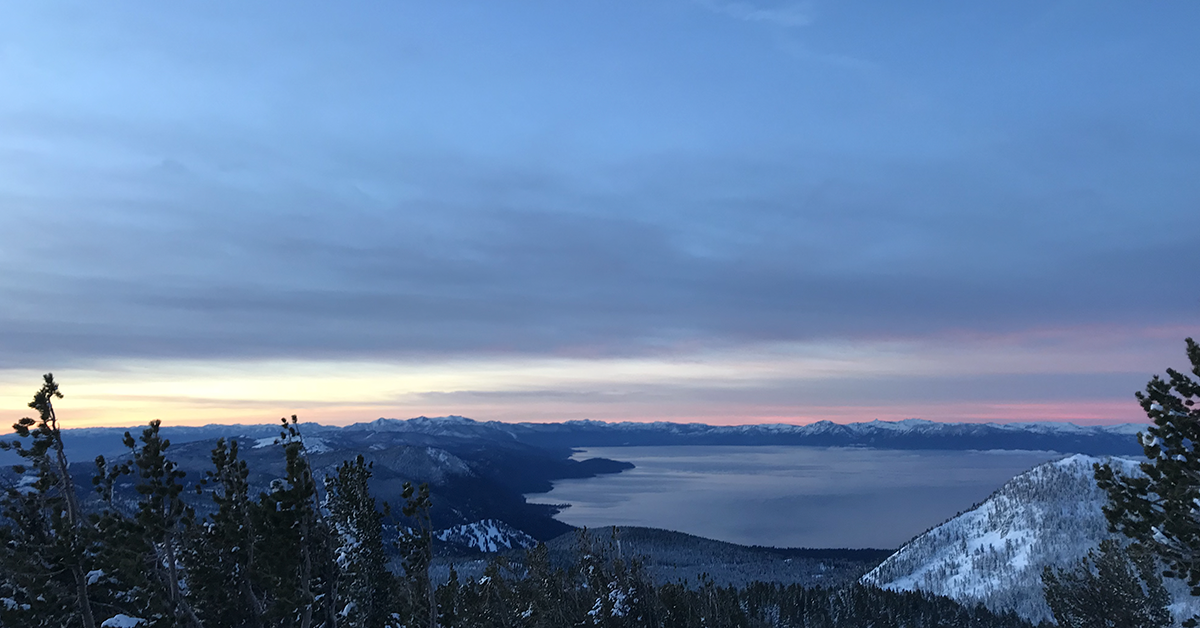 With a starting elevation of 8,650' and topping out at 9,990', Tamarack Peak is an early season favorite, when storms haven't quite dropped enough snow around the lake. A quick skin to the top gets you endless views of the entire Tahoe basin to the south, and the Nevada desert off east. But the best is yet to come, the Northeast facing Hourglass bowl is the true reward. 
Frog Lake Huts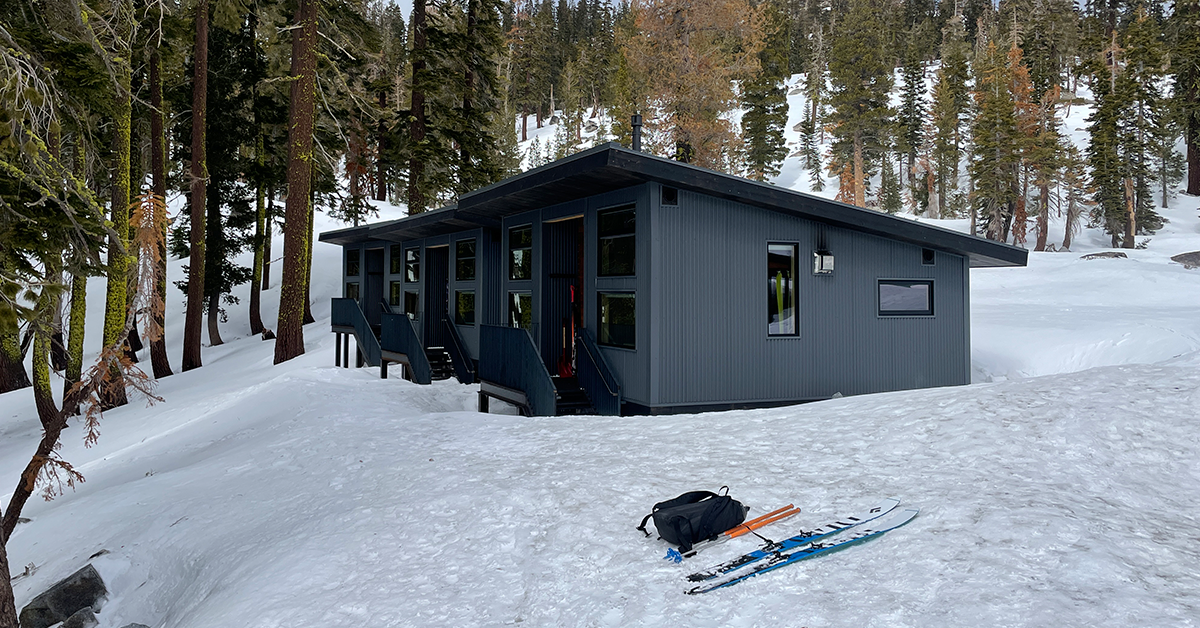 Opened just this year, the Truckee Donner Land Trust's Frog Lake Huts are the areas hottest new adventure. Located to the Northeast of Donner Summit, the huts offer comfortable accommodations in truly rugged and wild terrain. Only accessible by skis or snowshoes in the winter months, these modern huts boast a commercial kitchen and access to steep chutes, mellow glades and open bowls that were previously hard to reach in a single day. Options to hire a guide through Alpenglow Expeditions include equipment and food portering and cooking so you can enjoy every minute of your time in this incredible and remote setting. 
Bonus! Mt Shasta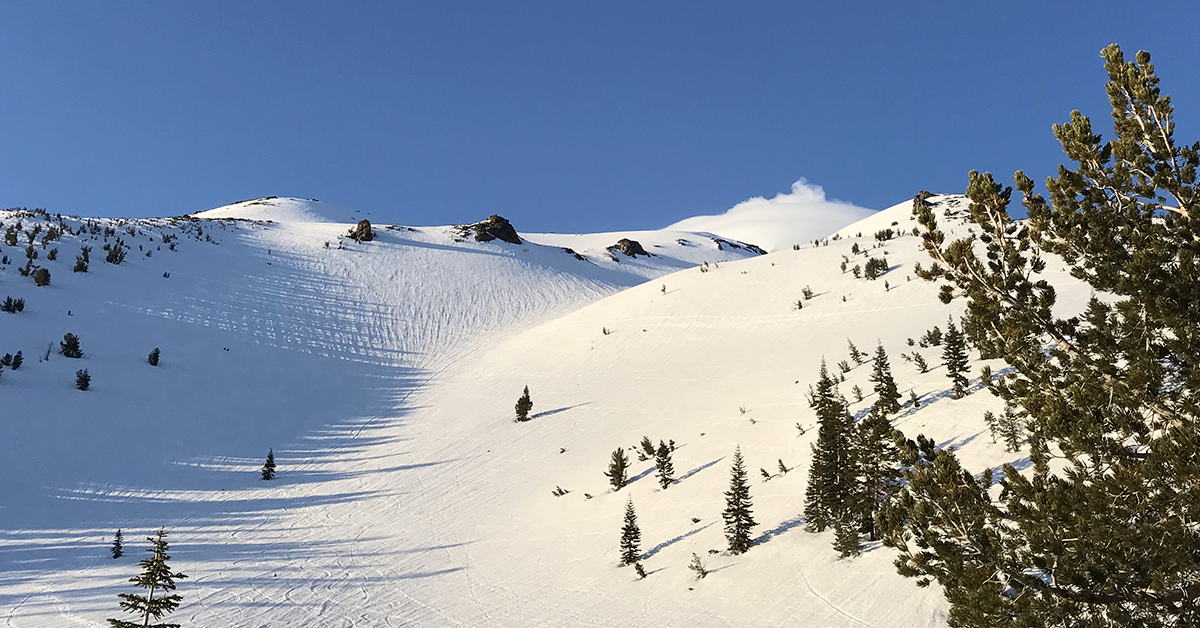 When the spring hits and the snow begins to melt out around the lake, your ski season doesn't have to end! Head north and climb Mt. Shasta! Shasta's easiest route heads up Avalanche Gulch, and offers 7,000' of spring skiing back down to the car. This is a true mountaineering feat and it's recommended to hire a guide for your first adventure.
About Alpenglow Expeditions
Alpenglow Expeditions was founded in 2004 by IFMGA certified guide Adrian Ballinger. From the Himalaya to Lake Tahoe, Alpenglow leads expeditions across the mountain ranges of the globe in all disciplines including mountaineering, skiing, ski mountaineering, and rock climbing. With over 30 international expeditions per year and a full menu of ski and rock climbing courses in Lake Tahoe, Alpenglow Expedition's core values are founded on providing a unique experience for each client who desires to explore mountains across the world. Explore their website, follow them on social @alpenglowexpeditions or call 877-873-5376 for more information.
*The areas mentioned within this blog contain avalanche hazard. Be sure to have the proper education, equipment and experience, and always check the Sierra Avalanche Center before heading out.