Login
Log in if you have an account
Dont have an account? Register
CA89 Goes to Europe
04 Dec 2016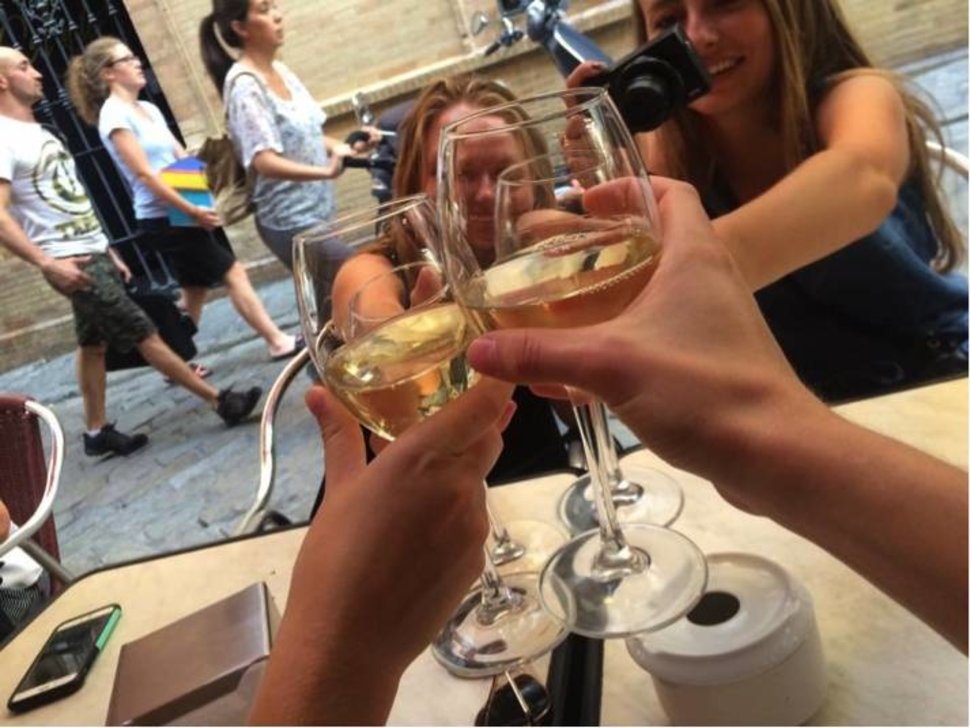 MONDAY, DECEMBER 5
California 89 Ambassador and Cal Poly Nutrition student, Bella Gotts, traded in the Sierras for a chance to explore Europe this summer. She reflects on her adventures as
she gets ready to finish up her Culture of Food and Wine course in Spain.
---
Before I left for this 4-month adventure in September, I wasn't placing any emphasis on the studying in "studying abroad." Although that remains mostly true regarding hitting the actual books, I've learned much more than I could have ever imagined. Unfortunately, my time here is nearly over and December 21st is right around the corner! In my time here I've been to a total of 19 cities and 6 countries – but it won't end there! In this upcoming week I will be in Madrid, Milan, Brussels, Copenhagen, and Berlin so stay tuned! These travels have been an experience of a lifetime and I in no way intend on stopping anytime soon – my list has tripled if anything. I am excited to see where these last few weeks will take me, but in the mean time here are a few things I think Americans could learn from the Spanish:

Working to live
In the States it's pretty obvious that many people take on the "live to work" philosophy, but it's tough to come across Spaniards that take on this mentality. The attitude towards work, productivity and overall money is drastically different. American students are brought up to strive for the best. We are taught that with hard work comes success. The Spanish on the other hand, work for money and not necessarily success. Their productivity is lower since they are more than okay with just having enough to get by. They generally recognize 3 needs to survive: amigos, dinero, y tiempo para disfrutarlo (friends, money, and time to enjoy it).
Spaniards can also function on very little sleep – hence the three-hour gap in the middle of the day called "siesta." They have full lives that happen entirely after the workday and make it a part of their everyday lifestyle to socialize with the ones they care about. Which is why its not surprising tapas are hugely popular. Casually sipping on beer/wine and sharing small plates between loved ones for hours on end? Yes please.
Greetings
It is very common in Spain to walk into a shop, elevator, or any other close encounter with strangers and greet everyone saying "Hola, buenas!" Even as a goodbye, Sevillan's say "Hasta luego!" meaning until later, more often than the standard "Adios!" Although they are small gestures, I think the States could definitely use more of this kind of interaction. Even when you meet someone for the first time in Spain, it's polite to touch them on the shoulder and kiss them on each cheek.

Sit down meals
Although not always practical when running on a time schedule, I think making an effort to have a meal with friends and family is worth it. In the States we tend to dig into lunch at our desks, power bars on the run, and get coffee to go.
Spaniards almost never eat on the go and power bars virtually don't exist in Sevilla – when my parents came to visit I had them bring tons of protein bars in spite of my cravings. Spaniards insist on making every meal, snack and coffee break a sit-down affair. They often stick around at the table when finished eating to enjoy a sobremesa – an after-meal conversation.
In my Culture of Food and Wine class, we discussed the differences between slow food and fast food. I'm sure we all know the reaping benefits of fast food compared to slow food in this day and age, but it's no wonder the Spanish enjoy slow-food significantly more – it takes more time and its more social.
Here I am enjoying some of the many tapas that I've had while in Spain!
This was taken at Tio Pepe, a very famous sherry winery in Jerez, Spain.
One factor I will definitely miss about my study abroad experience is our "family" sit down meals. I was lucky enough to room with 4 other girls in an apartment, each of us being from a different state in the U.S.
In our "Casa de Sevilla" we have a señora who cooks lunch and dinner for us 6 days of the week. We eat almost all of these meals together, and they have become part of my day that I've really come to love and enjoy. We even had our señora make us our very own thanksgiving meal! 
Taking time and slowing down
We're in a constant rush in the States because time is money. Our lunches are quick so we can get back to work, if we're not taken care of immediately, we file customer complaints, and we have high expectations and want everything ASAP.
Although impatient when it comes to operating a vehicle, I applaud the Spanish for their patience for just about everything else. You could starve at a restaurant before you got the waiters attention or while waiting for the check. A long line at the supermarket does not mean a new register will open. This was initially pretty frustrating and really tested the little patience I came with. I've learned to take a deep breath, take it in as it comes, and know that things will happen in their own time – poco a poco.
Walking through the Alhambra in Granada, Spain,
I definitely took some time to stop and smell these flowers.
I will certainly miss walks like these going home from class in the Maria Luisa Park – which have given me tons of time to reflect and become a more independent person.
I've become accustomed to this different way of life and have fallen in love with it. In the first couple weeks here I stopped myself from rushing back to class as I had a little time to kill. I looked around and asked, why am I hustling to get back to class when all of this beauty is in front of me and there is so much to take in?
This is famous Giralda in Sevilla, connected to the third largest
Cathedral in the world. This became a common sight for me to see
on my way back to class, given that it was so close to my school.
Another popular landmark in Seville, the Plaza de España, is
about a 5-minute walk from my apartment in Los Remedios;
a walk through it at sunset is absolutely breathtaking.
It's easy to get caught up in a busy schedule and go into autopilot. Trying to be in the present moment is something that I strive to integrate into my life and I try to remind myself of that as much as I can. This kind of mentality is one that 89 embraces. Take a minute of each day to enjoy the beautiful scenery that the Sierras, and more importantly what California 89 has to offer!