Login
Log in if you have an account
Dont have an account? Register
Learn How Tahoe Fund is Protecting the Legacy of Lake Tahoe
27 Jul 2018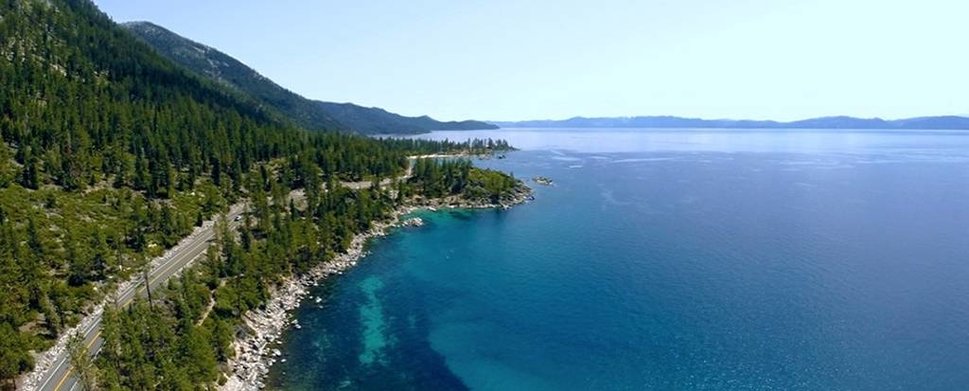 Amy and her team are an incredible organization that continue to enhance the beauty of the Lake Tahoe area.  With continued support from our community The Tahoe Fund ensures that the legacy of the lake will be enjoyed by many generations to come. — Lisa Gotts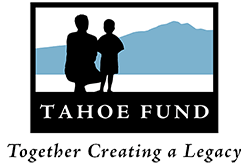 Tahoe Fund's Mission to Enhance and Restore Lake Tahoe
The Tahoe Fund was created to bridge the gap between the money needed to keep Lake Tahoe healthy and the lack of public funding for these vital projects. Launched in 2010, Tahoe Fund formed partnerships with The California Tahoe Conservancy and the Nevada Division of State Lands. They are governed by a Board of Directors dedicated to combining private and public funding to complete projects necessary to the continued vitality of Lake Tahoe for the years to come.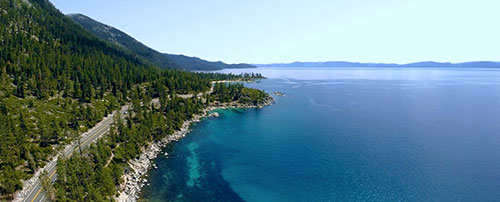 Tahoe Fund's mission is to "restore and enhance the extraordinary natural environment of the Lake Tahoe Basin by building broad support and funding for projects and programs that preserve the Lake for the enjoyment of current and future generations."
Tahoe Fund accomplishes projects critical to creating a sustainable future for Lake Tahoe in both California and Nevada. They achieve this through their three-fold approach which includes, fundraising, providing grants for implementing Environmental Improvement Program projects and public education/outreach.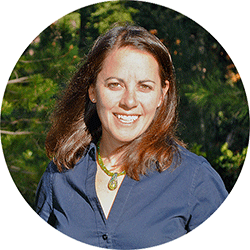 Amy Berry, the CEO of Tahoe Fund and a member of the Take Care Tahoe team, graciously took the time to meet with me to discuss some of the exciting projects that Tahoe Fund is undertaking and their importance to Lake Tahoe and the surrounding watersheds. Amy's passion and fierce dedication to protecting our region's most precious resources were readily apparent as she explained the ongoing projects and how they are funded. She'd like to see a perfect balance of the public accessing and enjoying the lake while keeping a low impact on the environment. To Amy, every project is equally important and all of them contribute to the overall health of the region while providing an opportunity to educate visitors and residents about the importance of protecting Lake Tahoe.
Tahoe Fund is actively working on a number of important current projects in and around the Tahoe Basin. Take a look at some of these exciting projects below.

Environmental Organizations Unite with Take Care Tahoe
Tahoe Fund and more than 20 environmental organizations have developed Take Care Tahoe. It provides a single information source for all environmental education activities. The site shares ways one can enjoy and protect Lake Tahoe such as, beach cleanups, wildflower hikes, insightful discussions, volunteer opportunities, environmentally friendly festivals and events. The well-designed site includes information on the science, history, and environment of Tahoe, environmental success stories, guides and information on various visitors centers. Amy stressed the importance and benefits of having all of these resources in one place. Please visit takecaretahoe.org and take advantage of this great resource.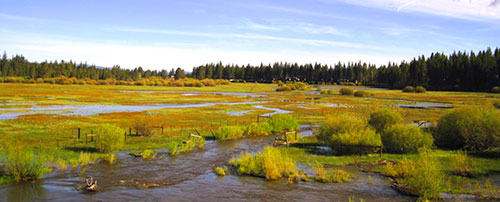 The Johnson Meadow Acquisition, a New Hope for Tahoe's Largest Watershed 
Johnson Meadow was the largest privately-owned section of the Upper Truckee River for many years. The acquisition of the 206 acres of beautiful alpine meadow in South Lake Tahoe was was made possible through a collaboration between Tahoe Resource Conservation District, the California Tahoe Conservancy, California Department of Fish & Wildlife, Tahoe Fund, and the former owners of Johnson Meadow. Campaign support for this project from Barton Health and donations collected at Heavenly Ski Resort also made this acquisition possible. This is an important milestone because the Upper Truckee River has the most impaired watershed and is the highest contributor of fine sediment affecting the clarity of Tahoe's crystal-clear water. This hugely important acquisition of property will improve wildlife habitat, climate change resiliency and recreation throughout the Truckee Meadows and Lake Tahoe region.
Tahoe Funds dedication and impact to our region is obvious when you look at their vast list of accomplishments over the past eight years. You can click on the links below to learn more about each of their completed projects.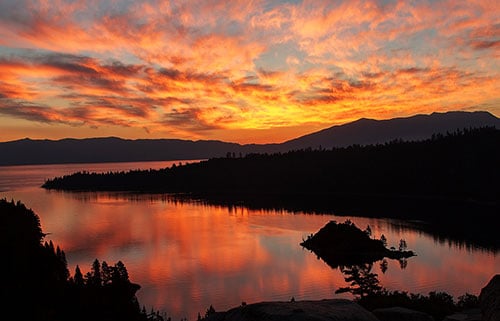 Emerald Fire Restoration Underway
In October 2016, a quickly moving fire burned 196 acres on a hillside near Emerald Bay and destroyed more than 85% of the trees in the area. The fire has scarred the landscape and changed the habitat for the wildlife in the area. A grant from AT&T has allowed The Tahoe Fund to work with the US Forest Service to start the regrowth of Jeffrey Pine, Incense Cedar and Sugar Pine by planting 15,000 seedlings in the burn area.
The Breathtaking Incline to Sand Harbor Bike Path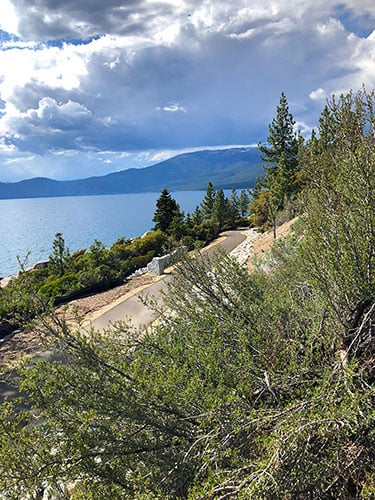 This exciting project, led by NDOT, is nearing completion by the end of 2018 and will provide a beautiful three-mile path to enjoy the beauty of the lake's east shore. The path will be an important recreational amenity for the enjoyment, environmental benefit and road safety around Lake Tahoe. The smooth, 10-foot wide path will meet ADA standards to ensure it is accessible for everyone to ride, walk or stroll. The path will begin where Lakeshore Dr. and NV Highway 28 meet, then follows the shore for three miles to Sand Harbor, State Park. The path will provide scenic vistas, Memorial Point and Hidden Beach access, and is a major part of the Lake Tahoe Bikeway. Thanks to generous private donors, Tahoe Fund was able to raise $750,000 to act as a match to access and leverage public funds from various federal, state and Washoe County sources. You can leave your legacy on this trail and at Lake Tahoe with engraved pavers that will be set along the path. A bear-shaped paver is $2,500 and a trout-shaped paver is $5,000. Stay updated on the path's progress here.
Minimizing Erosion on the King's Beach Bike Trail
The Tahoe Fund is partnering with Tahoe Area Mountain Bike Association (TAMBA), the US Forest Service, the Truckee Tahoe Airport and North Tahoe Public Utility District to transform the current OHV (off-highway vehicle) trail, that has been experiencing major erosion issues, into a trail for use by mountain bikes, motorbikes, hikers and equestrians. The redesign of current OHV trails helps to minimize erosion and sediment flow in the lake by up to 90%. TAMBA will be looking for local volunteers for some of this trail work.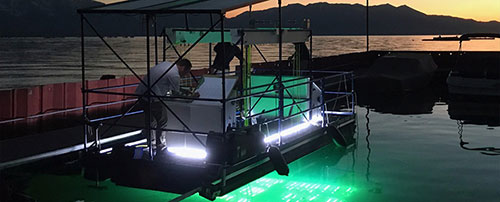 UV Light Pilot Project to Protect the Clarity of Tahoe
Aquatic invasive weeds are a serious threat to the clarity of the waters of Lake Tahoe. Invasive, non-native species, such as Eurasian watermilfoil and curly-leaf pondweed have already established in the Lake. These threaten the health of the lake and surrounding rivers. Tahoe Fund has provided the initial funds for a project that will evaluate UV light as a new method to remove aquatic invasive weeds. In 2017, the UV method was used at Lakeside Marina & Beach and monitoring of the area is ongoing.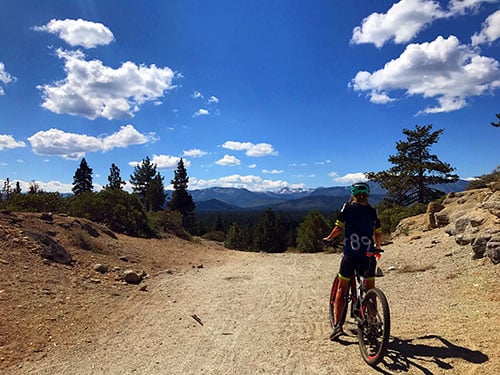 Spectacular Views Along the Incline Flume Trail
The Incline Flume Trail, not to mistaken for the Marlette Flume Trail, is a Tahoe gem. This family friendly trail runs from the Mt. Rose Highway to the Tunnel Creek Trail offering beautiful hiking in an exquisite natural setting. The Tahoe Fund, working with the Friends of Incline Trails, funded and secured the necessary environmental approvals to make the Incline Flume Trail an official US Forest Service trail. Trail reconstruction, maintenance, way-finding and interpretive signage were badly needed on this trail. Thanks to David and Cheryl Duffield (who donated over 18 acres of land along the trail), the Nevada Land Trust (a nationally-accredited nonprofit conservation land trust), volunteers from TAMBA, the Tahoe Rim Trail Association, and Friends of Incline Trails have made these improvements possible.
Trail and Path Improvements
Blackwood Creek/Eagle Rock Trail Restoration
Improvements on the Rubicon Trail and Lighthouse
Angora Creek Bridge Replacement
Vital Environmental Projects
Invasive Aquatic Weed Removal at Tahoe City
Invasive Aquatic Weed Removal at Ski Run Chanel
Emerald Bay Asian Clam Control
The Aquatic Invasive Weed Bottom Barrier Challenge

Green Bucks, Improving the Health of Our Lakes & Rivers
Green Bucks is an innovative program that has local businesses around Tahoe and Truckee collect one dollar from guests from the purchase of lift tickets, hotel rooms, etc. These donations from the Green Bucks program supports the needs of the Tahoe Fund and the Truckee River Watershed Council in their missions to improve conservation, recreation, and stewardship education throughout the Lake Tahoe Basin and the Truckee River Watershed including miles of hiking, biking and ADA-accessible trails, access for swimming, kayaking, canoeing and stand-up paddle boarding, open spaces for wildlife habitat and scenic views, restoration of rivers, lakes, meadows, wetlands and forests, protection of fish and wildlife habitat, boating and fishing access, landscaping and trail realignment to prevent runoff, signage and interpretive displays to guide visitors.