Login
Log in if you have an account
Dont have an account? Register
No fireworks in North Lake Tahoe? No problem! Check out these four alternatives this 4th of July.
29 Jun 2022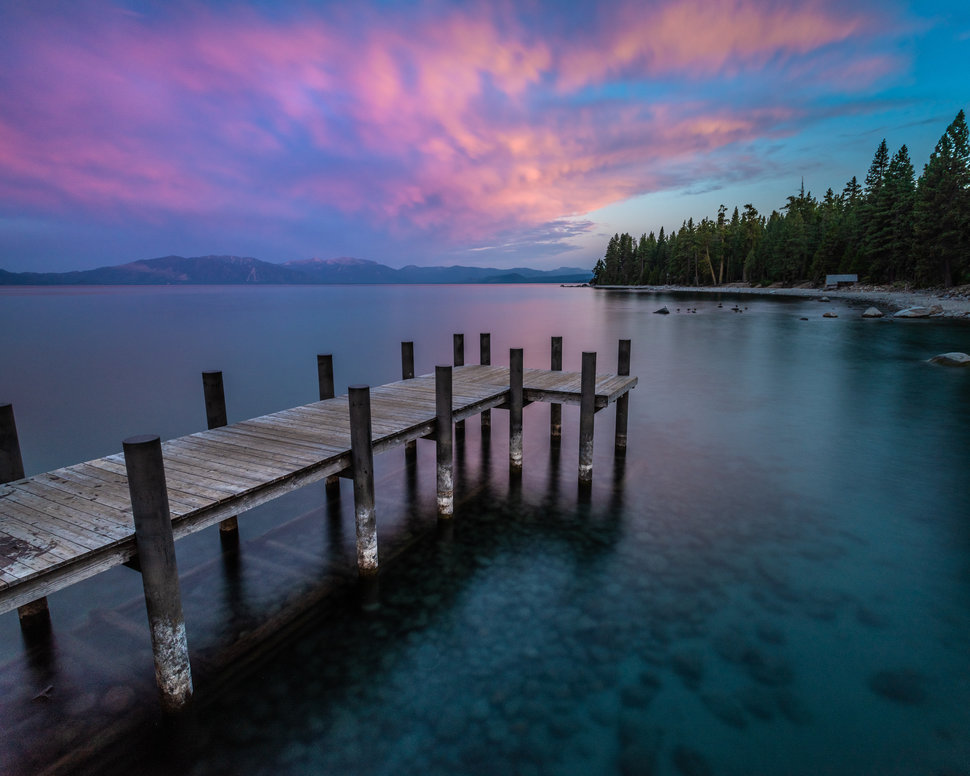 No fireworks in  North Lake Tahoe? No problem! Check out these four alternatives this 4th of July.
This year, the 4th of July organizers in North Lake Tahoe decided to forego fireworks in the area. This decision was made because of wildfire and pollution concerns caused by the pyrotechnic displays. But don't worry, the show will go on! In North Lake Tahoe, fireworks will be replaced with drones in three locations along North Tahoe, giving the area a safer and more sustainable way to celebrate the holiday. If you're still committed to seeing real fireworks, head to Truckee, where you can see traditional fireworks lighting up the sky above Donner Lake! Check out the details for the holiday weekend's events below. 
July 3rd - Kings Beach Drone Light Show & Beach Party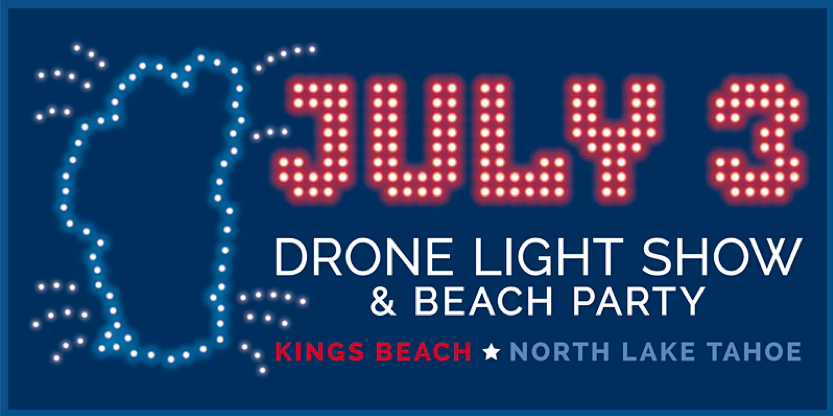 Start your 4th of July weekend celebrations at the 41st Annual July 3rd Beach Party and Drone Light Show! The free party goes from 7:00 -10:00 pm at the Kings Beach State Recreation Area and is open to all ages. The event will feature food vendors, a beer/wine garden, and a dazzling drone light show display at 9:30 pm.
Parking will be limited on July 3rd in Kings Beach, so plan accordingly. Attendees are encouraged to walk, bike, or take public transportation to the venue.
If you'd like preferred seating tickets, you can purchase them here. Preferred Seating is located outside the North Tahoe Event Center and includes access to indoor restrooms. Proceeds from Preferred Seating Tickets and Beach Party beverage sales help pay for the Drone Light Show. There are a very limited number of tickets that typically sell out, so get yours while you can!

July 4th  - Incline Village Crystal Bay Sky Show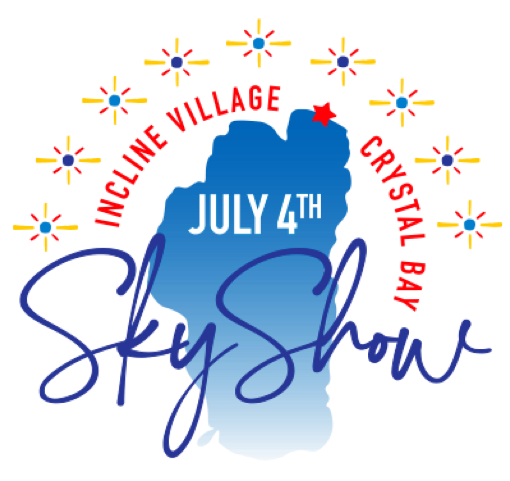 Incline Village Crystal Bay will debut a new way to celebrate the 4th of July this year with a drone 'SkyShow' lighting up the night sky. The event will take place at the Incline Village Middle School baseball fields and will go from 7:30 pm - 10:30 pm with two drone shows at 9:30 pm and 10:15 pm. 
In addition to the drone show, the event will include a beer garden and DJ music. Attendees should bring blankets and beach chairs and walk or bike to the event if possible. 
Visit the event website for more information. 
July 4th - Tahoe City Drone Light Show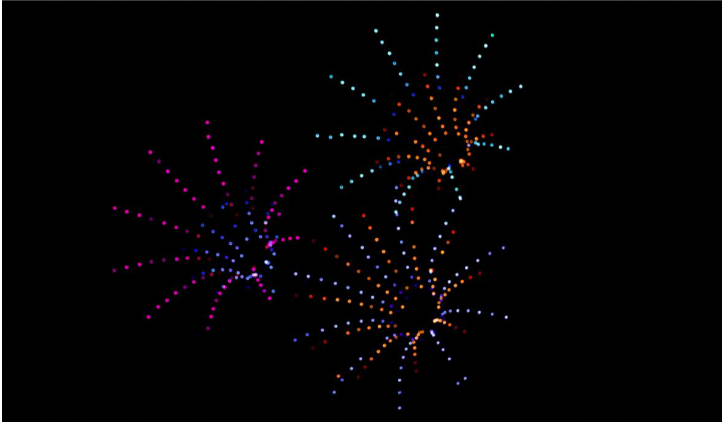 After a 2-year hiatus on fireworks, Tahoe City welcomes an eco-friendly light show that aligns with the region's sustainability efforts this 4th of July. The event will take place at Commons beach from 8:00 pm - 10:00 pm and is free and open to all ages. 
Orchestrated to music, over 100 drones will take to the air directly over Lake Tahoe. The city expects a busy 4th of July with many visitors and locals and a return to packed streets, hotels, shops, and restaurants, so be sure to arrive early if you'd like to see the show!
July 4 - Donner Lake Fireworks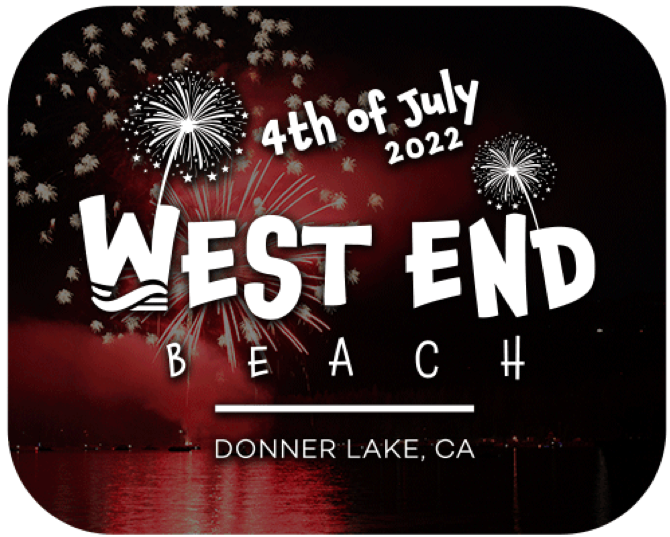 Hoping to catch a traditional firework display this 4th of July? Head to Donner Lake in Truckee! Fireworks above Donner Lake start at 9:30 pm on the 4th of July. Find a viewing spot on one of the public docks or head up Old Highway 40 towards Sugar Bowl and find a big granite rock to throw a blanket on.
Truckee residents & homeowners are also able to partake in a 4th of July party at West End Beach. Tickets for this event are available through July 2 for Truckee residents only and are $10/person. The party at West End Bach will include music, lawn games, a BBQ, and much more. The event starts at 9:00 am and goes through the end of the evening. For more information on the West End Beach party, click here. 
BONUS: Keep Tahoe Red, White, and Blue Beach Cleanup on July 5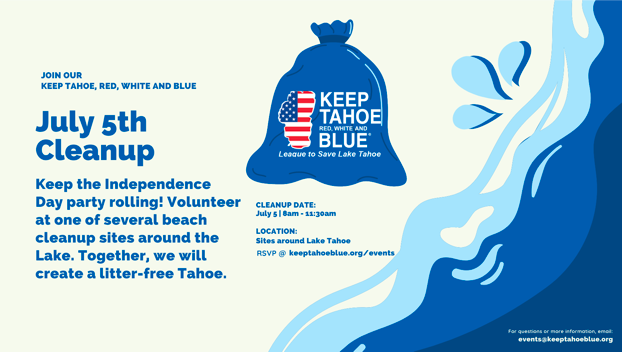 After the July 4th festivities, Tahoe beaches are left covered with trash, which can harm wildlife and lake clarity. Each year, Tahoe residents and visitors turn out for the most extensive cleanup of the year to remove litter from Lake Tahoe's shores. 
Want to get in on the action? Register to volunteer at the cleanup here: registration. For more information on the event, visit Keep Tahoe Blue.